Director Brad Bird Confirms That 'The Incredibles 2' is Now Being Written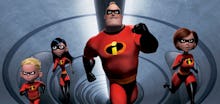 The Incredibles 2 is under way.
Director Brad Bird recently confirmed that Pixar will be making another visit to the world of the eponymous superhero family, with much of the script already put to paper and no other projects planned to follow his upcoming flick, Tomorrowland. In an interview with Collider, the director said, "Oh yeah I have pages, a bunch of pages."
"I had a lot of ideas for the original Incredibles that I didn't get a chance to use, that I like," Bird told Collider. He said that there simply wasn't enough time in the 2004 movie to explore all the possibilities of the movie's universe.
"I'm just focusing on getting Tomorrowland out into the world and playing with the Incredibles sandbox again," he added.
Bird additionally confirmed that he is relatively confident that the sequel will be his next project. He told NPR last month that another Incredibles was "percolating," but in this interview Bird seems pretty assured that the project is actually happening.
Aficionados of the original movie have waited over a decade for a sequel — and with rave reviews and a worldwide gross of a stunning $631 million, the viability of an extension to the franchise has never been in question. The decision to leave it on the back burner for so long has frustrated fans and actors alike, including Samuel L. Jackson, who voiced the movie's Frozone. Bird has described the delay as necessary while he searched for a plot worthy of the franchise. Now that he's speaking more positively about a sequel, fans can rest assured their favorite super-family is not a lost cause.
Maybe we'll finally find out who won the fight with The Underminer.
Watch the full interview courtesy of Collider below, with bonus chat about the future of Star Wars: