This New Young Adult Book Tells Teens the LGBTQ Rights Story They Need to Hear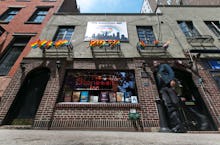 Several events in American civil rights history are so ingrained into the country's fabric, they must be taught to young students. The March on Washington is an obvious one. Women's suffrage is an undertaught subject, but still present in most curriculums. The distribution of Selma DVDs to every school in the U.S. will make certain the fight for the Voting Rights Act of 1965 is remembered.
Yet one civil rights battle remains woefully absent from most educational plans: the fight for LGBTQ rights. Films like Milk have made Harvey Milk's story accessible for older teens, but a telling of the Stonewall riots aimed at young people has yet to emerge — until now.
Stonewall: Breaking Out in the Fight for Gay Rights, a new young adult non-fiction book by author Ann Bausum, tells the Stonewall tale in a way fit for younger audiences. The result is an evocative, powerful book, as well as an incredibly important one in the ongoing fight for LGBTQ equality.
Bausum is the author of a number of books with social justice elements to them, including one about the March on Washington. Writing about Stonewall was a natural move for her, though by her account, it took the country an extra bit of time to catch up with her. She first thought of the idea in 2005, but didn't feel that publishers were ready until she was at a book festival in South Dakota in 2010.
"While I was out in South Dakota, I learned of the death of Tyler Clementi," Bausum told Mic, referencing the suicide of a Rutgers student after his roommate posted footage of him having sex with another man on the Internet. "It had a big impact on me, because it was like one death too many, one bullying incident too many. I had two kids in college at that time, two young men. I could just imagine the call to the parents."
The time had come to write about Stonewall. She spent the next three years researching and building a proposal for the book. When she finally pitched it in January 2013, the riots took on a whole new significance.
"Coincidentally, that was the same month that Obama gave his second inaugural address, where he made the connection in his speech, elevating Stonewall to being part of this great continuum of social justice history, connecting it to Seneca Falls and Selma," Bausum said. She brought that knowledge into her pitch meeting as evidence of timeliness, and got the green light. Two years later, on May 5 of this year, Stonewall was released.
"Life isn't black and white. People aren't just good or bad," Bausum said. "We all have dimensions. When you can share the dimensions of that history with someone, I think for one, they'll trust you more."
Getting Stonewall out there is only half the battle. It still has to be read, of course. But Bausum's work is already a major win for LBGTQ rights activists.
"She's written such a riveting account, not just of that night in 1969, but also the political landscape in the surrounding decades, including up-to-the-minute reports on how LGBT folks like me are still fighting for truly equal rights," author Tim Federle, who recorded the audiobook for Stonewall, said in an interview with Mic. 
It's an impressive read not just for its thoroughness, but for its nuance as well. Bausum shies away from condescending to young readers with clear hero-and-villain lines. The same gay men fighting for their rights in one section of the book can be seen as occasionally unfriendly to women and lesbians in another. It makes Stonewall an intelligent choice for young readers when it easily could have been a whitewashing of queer history.
"I think children can handle pretty complicated material, and young people can, if it's shared with them respectfully and with clarity," Bausum told Mic. "Life isn't black and white. People aren't just good or bad. We all have dimensions. When you can share the dimensions of that history with someone, I think for one, they'll trust you more."
These dimensions also give hope that Stonewall will be read not just by young people, but older readers as well. "I'm hoping Stonewall reaches not just its intended audience of young adults," Federle said to Mic, "but also anyone who wants a good, crackling Law & Order-like procedural about a civil rights issue we're still trying to get right."'
Stonewall's goal is a simple one: Tell a vital story to an audience that needs to hear it. Indeed, "needs" is the operative word here; the more young people hear about the fight for LGBTQ equality at a young age, the more inclusive and accepting they'll become. True equality starts among youth as bigoted opponents of equality die off. Merely teaching young people about Stonewall and equating the fight for LGBTQ rights with the other segments of the civil rights movement is how change will happen.
Additionally, and importantly, for the kid in the closet afraid to talk about who they're attracted to or how they feel inside, Stonewall can be a treasure. 
"I think it's important for young people to find role models that can inspire them, whether they're like them or not," Bausum told Mic. "But when you can find role models who share your characteristics, whether it's gender or race or religion or cultural heritage or whatever, that just increases your investment in the past and hope for the future."
Stonewall is now available on Amazon and at other physical and digital retailers.