In One Quote, Morgan Freeman Sums Up Why We Need Medical Marijuana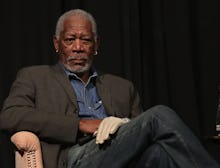 Morgan Freeman is ready for legal weed.
In a recent interview with the Daily Beast, the actor best known for films such as Driving Miss Daisy, The Shawshank Redemption, The Dark Knight Trilogy and Bruce Almighty opened up on a number of subjects including his belief that the case for legalizing medical marijuana in the United States is solid and long overdue. 
"This movement is really a long time coming, and it's getting legs — longer legs," the actor told the Daily Beast, adding he himself was a regular user who often took the drug for its medicinal purposes. "I have fibromyalgia pain," said Freeman. "The only thing that offers any relief is marijuana."
On how he likes it, Freeman wasn't shy.
"I'll eat it, drink it, smoke it, snort it!" the actor proclaimed.
Freeman, whose very likeness is synonymous with wisdom, added his voice to a growing consensus around the subject in the U.S. Currently, Colorado, Washington, Oregon and Alaska all allow legal use of recreational marijuana. Take a look at medical weed, and the map expands considerably, with a growing number of states legalizing use to some degree.  
Science, meanwhile, has shown that while many weed users do indeed go on to try other, harder drugs, arguments labeling marijuana as a gateway drug miss the bigger picture. A 1999 Institute of Medicine report found marijuana typically came after drug use elsewhere, noting "underage smoking and alcohol use typically precede marijuana use, marijuana is not the most common, and is rarely the first, 'gateway' to illicit drug use."
It's an analysis that would likely resonate with Freeman, who contrasted the relatively benign effects of weed with the significantly greater threat posed by alcohol. "Alcohol has no real medicinal use. Maybe if you have one drink it'll quiet you down, but two or three and you're fucked," he told the Daily Beast.
The data, too, is clear on that subject. 
Somehow, marijuana, a relatively benign plant that causes no fatalities, got lumped into the federal government's Schedule 1 drugs along with LSD, heroin and ecstasy. Thanks, however, to robust action from the states, progress is finally being made in clearing the drug's name. With legalization in some form now in almost half the United States, the end of the tunnel is starting to come into view.