7 Miley Cyrus Quotes That Prove She Doesn't Give a Fuck About Your Gender Stereotypes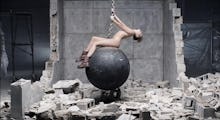 She told us from the beginning that she was "just being Miley."
How little we understood about what she meant at the time. Last week, while promoting her new organization for homeless and LGBT youth, the Happy Hippie Foundation, Cyrus reminded the world that she is her own person and refuses to assume the labels that society gives her. As she's grown into adulthood, Cyrus has been nothing but consistent in that message. Here are just seven occasions when she nailed it. 
1. Gender isn't a problem — gender stereotypes are.
Cyrus delivered one of the most insightful pieces of commentary on gender in the 21st century in a recent interview with Out magazine. Cyrus pinpointed the difference between gender and gender stereotypes — our bodies aren't the problem. The problem is what our bodies mean in a society where stereotypes are accepted at face value.
Cyrus' delineation resulted in a media frenzy, with some outlets suggesting she was "genderqueer." Yet she took to Instagram to refute this label, too, saying, "NOTHING can/will define me! Free to be EVERYTHING!!!"
2. You can do anything with your gender
Cyrus further defined her conception of gender last week on Good Morning America: "I think I've been able to identify with it just because I've never thought of myself as, 'I'm a girl and so I can't do this,' or 'I can do this,' or 'You gotta be a boy to do that,'" she said. "I've never thought about that. I feel completely like I'm not tied to a gender or to an age. I feel, you know, like an infinite cosmic thing and that's what I want people to feel."
3. It's her body, and she can do whatever the hell she wants with it
Because gender stereotypes do not define her, she will do what she damn well pleases with her body — including dying her armpit hair (and, well, growing it out in the first place). "The pink pits are saying, 'Don't tell me what to do,'" she said in an interview last week with the Associated Press. "It's back to what I'm preaching in a way, you know, telling these kids. I'm not just saying you be yourself and I'm going to go be Miley Cyrus. I'm saying I'm going to be my (expletive) self, too."
4. It's about your — not anyone else's — personal style 
As a celebrity, Cyrus has repeatedly witnessed women trying to live according to these stereotypes. "I just don't get what half the girls are wearing," she told Ronan Farrow in a 2014 interview for W Magazine. "Everyone to me seems like Vanna White. I'm trying to tell girls, like, 'Fuck that. You don't have to wear makeup. You don't have to have long blonde hair and big titties. That's not what it's about. It's, like, personal style.'"
5. It's time to challenge what it means to be "pretty" 
What started as a joke to help her get through the discomfort of having to pose for photos has become one of Cyrus's iconic poses. "I just stick my tongue out because I hate smiling in pictures," she told Rolling Stone in 2013. "Taking pictures is so embarrassing. But there's also something about it that I think is cool. Every other girl is so serious — like, this is my moment on the red carpet, I'm in my ball gown, looking pretty. There's something empowering about what I'm doing right now. Especially having 'short hair don't care.' I think it's empowering for girls. Because there's not one thing that defines what beauty is."
6. Just don't read the comments
In the same Rolling Stone interview, Cyrus praised her godmother, queer icon Dolly Parton, who she said taught her to be fearless about who she is. "I watch people like Dolly [Parton]. Dolly knows what she is. She's smart. She's not just a blonde with big titties — she is a genius under there," Cyrus said. "She literally came from nothing, and now you go anywhere in the world, and they know Dolly Parton. It's like, don't let people's judgment define who you are. Don't read the comments and get nervous. Know who you are."
7. You can be a feminist regardless of your gender:
Feminism is a political identity that can be inhabited by a person of any gender, including someone who labels themselves as having no gender at all. In a 2013 interview with the BBC, Cyrus very clearly articulated that she is a feminist above all else.