Jeb Bush Says He Would Have Invaded Iraq, Just like His Brother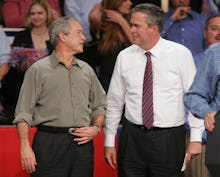 Meet the new Bush, same as the old Bush?
Former Florida Gov. Jeb Bush told Fox News that he would have invaded Iraq in 2003, much like his brother, former Pres. George W. Bush did, based on the intelligence being circulated at the time.
An early frontrunner for the 2016 Republican presidential nomination, Jeb Bush has been careful to keep his political distance from George W., whose administration acted on bad information (and, according to its many critics, bad faith) in attacking Iraq and kicking off a long war that killed 4,425 Americans and up to 500,000 civilians, according to some studies.
"Knowing what we know now, would you have authorized the invasion?" Fox News host Megyn Kelly asked Bush in an interview scheduled to air Monday night.
"I would have," Bush replied. "And so would have Hillary Clinton, just to remind everybody. And so would almost everybody that was confronted with the intelligence they got."
Though Clinton has so far remained silent — as a senator in 2002, she voted to authorize the war — the Democratic National Committee responded Monday to Bush's statements. In an email to press, the DNC said that "the difference between the Bush brothers and most Americans is that most people believe we were misled into invading Iraq. Knowing now what we did not know then, Jeb Bush still would have gone in."
The comments mark the second time in a week Bush has sought to defend or extol his brother's policy decisions. On May 5, Bush told a group of donors in a private gathering he considered George W. one of his most trusted advisers on Middle East policy. According to a CNN report, Bush told the group, "What you need to know is that who I listen to when I need advice on the Middle East is George W. Bush."
His own man?  In late February, Bush was less effusive. During a foreign policy speech in Chicago, he sought to draw a line between himself and his family name. 
"I love my brother, I love my dad," Bush said. "And I admire their service to the nation and the difficult decisions that they had to make. But I'm my own man, and my views are shaped by my own thinking and my own experiences."
That notion was quickly challenged when the former Florida governor revealed that 19 of his 21 closest advisers on issues of war and peace had direct ties to earlier Bush administrations. Expect the questioning to continue, but in greater volume, as the campaign moves forward. And they won't just come from the left — GOP opponents like Kentucky Sen. Rand Paul is likely to spend millions of dollars in an effort to discredit Bush's foreign policy points and his continued reliance on his brother's team of disgraced aides.