5 Ridiculous Things Women Have to Do to Get an Abortion in America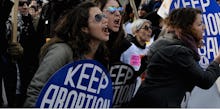 Oklahoma became the 27th state to impose a waiting period on women seeking an abortion earlier this month. The Sooner State is now one of four (joining South Dakota, Utah and Missouri) to impose a 72-hour waiting period, the strictest in the nation.
The 72-hour waiting period does nothing except add further insult, shame and guilt onto women seeking healthcare. As Amy Schumer showed in her recent cutting sketch about the many hoops women need to jump through just to get birth control, America's healthcare system discredits women and their needs, and instead necessitates they navigate a bureaucratic circus in order to receive healthcare. 
According to the Guttmacher Institute, more statewide abortions restrictions have been passed over the past four years than ever before. Like Oklahoma's waiting period, these restrictions make getting an abortion nearly impossible, especially for low-income women, who are overwhelmingly women of color. 
Here are just a few things women have to do in order to get the healthcare they need:
1. A medical provider is required to detail exactly what happens to the fetus
In addition to the waiting period, providers in Oklahoma are required to tell women "the probable gestational age of the unborn child, the risks associated with the abortion and with carrying the child to term and that ultrasound imaging is available," the Washington Post reported.
2. Have an ultrasound
Ten state governments require women seeking abortions to have an ultrasound before going forward with the procedure. According to the Guttmacher Institute, three of these states require women see the image and the doctor is mandated to "describe" the image to them.  
3. Get counseling 
According to the Guttmacher Institute, "17 states mandate that women be given counseling before an abortion." This so-called counseling is typically pseudo-medical persuasion, like telling women about the unverified "link between abortion and breast cancer" and the "ability of fetus to feel pain," a message intended to guilt women out of getting abortions. 
4. Get permission from mommy and daddy
As if the stress of getting an abortion isn't enough for any woman to go through, 38 states require parents to sign off on a minor's procedure in some manner, according to the Guttmacher Institute. Of those states, 21 "require one or both parents to consent to the procedure, while 12 require that one or both parents be notified and five states require both parental consent and notification." If the person is a minor and cannot acquire parental consent, in states such as Arizona, she must receive consent from a judge. 
5. Drive a long-ass way because local clinics have been closed
"Abortion clinics are closing in the U.S. at a record pace," Bloomberg's Esmé E. Deprez wrote in 2013. Only one clinic remains in Mississippi, North Dakota, South Dakota and Wyoming, Deprez noted in January 2015, not including the addition of Missouri as of last year. This means some women seeking an abortion must drive long distances and take extended time off work (therefore, both spending money and not earning money), just for an otherwise fairly quick medical procedure.