'Game of Thrones' Just Made TV History, But Not in the Way You Think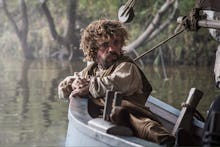 Game of Thrones' on-screen pirates have nothing on its Internet ones.
Piracy-tracking firm Excipio tells Variety episode five of the acclaimed fantasy show, "Kill the Boy," was downloaded more than 2.2 million times within 12 hours of the episode's air time at 9:00 p.m. EST on Sunday. The previous one-day record was set by the series' season four premiere, which registered 1.86 million separate illegal downloads within a 24-hour period following its air date.
Congratulations, HBO. Game of Thrones is now the most-pirated TV show on the planet.
Depending on the point of view, that's either an impressive measure of the show's popularity or a sad statement on I.P. theft. The first four episodes of season five previously leaked simultaneously shortly before the season premiere and were eventually downloaded by millions of people, marring record ratings.
While the high piracy numbers must be frustrating for HBO, the network itself is doing quite well and piracy does not appear to have seriously hurt its bottom line. CEO Richard Plepler recently told a graduating class of Franklin and Marshall College that HBO's new online-only streaming service, HBO Now, is off to a "wonderful start," with both HBO and partners like Apple being "thrilled" with its success.
"We do not spend very much time congratulating ourselves for the current moment," Plepler added, according to the Patriot-News. "We're always looking to what's next and how can we evolve and how can we do more."
The pirates are probably doing the same thing.