Get Ready for Lots More 'Empire' — Here Are the Fall Shows Coming to Fox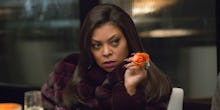 Hope you have a sweet tooth, because Fox is giving you a lot more Cookie.
Empire's second season will be expanded from its first, giving fans 18 full episodes versus this year's 12. It will also debut along with the majority of Fox's shows in the fall, versus being held for spring again. That means six extra chances for Taraji P. Henson to make Cookie Lyon even more iconic than she already is.
Joining Empire on Fox's fall schedule are five new shows, including the unfortunately titled Rob Lowe comedy The Grinder. ("Are you on Grinder?" – every gay man to Rob Lowe this fall.)
Most exciting is the upcoming debut of Scream Queens, Ryan Murphy's latest series. The horror comedy has a spectacular cast, from Murphy favorites Lea Michele and Emma Roberts to pop singers Ariana Grande and Nick Jonas.
Looking for New Girl, the new X-Files reboot or the final season of American Idol? They're all being held until January. Several of Fox's new shows, including Scream Queens, have limited episode orders and will vacate their time slots to make room for the replacement shows.
Check out Fox's full schedule below, plus trailers for all the network's other new fall shows. (New shows are marked in bold; all times Eastern.)
Mondays
8 p.m. — Gotham
Tuesdays
8 p.m. — Grandfathered
Wednesdays
8 p.m. — Rosewood
Thursdays
8 p.m. — Bones
Fridays
8 p.m. — Masterchef Junior