These 8 Incredible Advances in Tech Are Changing What It Means to Be Human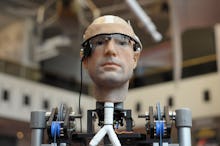 Researchers believe that by 2027, the human body could look drastically different.
Weaponized appendages. Wi-Fi-connected eyeballs. Real mind control. Medical advancements like these were formerly the wheelhouse of science fiction. But in the next few years, the promise of 3-D printing, brain prosthetics and bionic body parts will yield a number of drastic improvements in science and medicine. 
Already we're seeing incredible technological advances for humanity. Here are some of the technologies you may be surprised are in our grasp today. Their implications for the future are incredible.
1. Restored sight
While the more futuristic research of repairing and upgrading eyesight is already in development, visual prosthetics company Second Sight has created the Argus II, a visual prosthetic that sits on top of the retina. Using an antenna that sends signals back and forth between a special pair of glasses, the Argus II can bypass damaged parts of the eye and send visual signals straight to the brain — meaning it doesn't just bring vision from poor to fair, it could restore sight completely.
2. 3-D printed limbs
Thanks to 3-D printing, Faith Lennox, 7, sports a brand-new pink and purple arm that cost her family just $50. While her new prosthesis was minimally functional, the next wave of 3-D models will provide many more options while remaining moderately affordable.
Genta Kondo, the 28-year-old founder of exiii Inc., a robotics company specializing in bionic arms, created a 3-D printed bionic arm called the handiii that costs 30,000 yen to produce — or roughly $4,800.
3. Boots that reduce walking strain
Using only the movement of the wearer, researchers at Carnegie Mellon University created a spring-loaded exoskeleton boot that reduces the energy used to walk by about 7%. That doesn't sound like a massive number, but it's enough to keep the older hiking crowd on the trails a little longer, or rehabilitate people suffering from leg injuries. Plus, that technology could be produced for larger body parts, keeping whole, deteriorating legs in action longer.
4. New feet for runners
The carbon-fiber blade legs of Olympic sprinter Oscar Pistorius were, at one time, massively controversial. They opened the gate to a grant program called Amputee Blade Runners that aims to put new blades on amputee athletes.
The current, simple blade design is more about ergonomics than technology. But it's leading the way for advanced prosthetics, such as brain-controlled bionic legs, creating functionality that grows increasingly close to replicating the real thing. 
5. Full exoskeleton suits
Exoskeleton suits, like most technologies, were first tested in military environments. Now that it's more widespread, exosuit technology is being applied to a wide variety of people with locomotive challenges. They could be used for anything from moving heavy equipment, like in construction work, to rehabilitating weakened limbs. In 2014, China reported 30 industrial robot factories, some of which are working on robotic suits specifically.
That same year in Japan, the Tokyo University of Science began shipping the Muscle Suit, a 12-pound robotic suit that straps on like a hiking backpack and uses compressed air pushed through rubber tubes to aid in lifting heavy objects. The price tag is surprisingly low: 600,000 yen, or $5,190.
6. Editing DNA
With the advent of the new microlevel gene-editing program CRISPR, conversations about testing the limits of genetics are already on the table. Of course, the most controversial and important threshold that approaches is editing human DNA — which happened in April, even though it wasn't to the humanity-altering extent discussed in movies like Gattaca. 
With the April discovery, it became clear that the ability to edit human DNA wasn't the hurdle — it's how we'll do it. The process could eliminate eventual diseases, change eye color or alter height. But should we take it upon ourselves to dictate the future of a person's life? And is a perfect human even human at all?
7. Mind control
Using neuroprostheses, or prosthetics for the brain, Swiss researchers were able to move a motorized wheelchair with their minds. They could even keep it going using a "shared control" method: Instead of one person having to "think" it forward for hours, other researchers could take over. 
José del R. Millán, one of the researchers, hopes that this technology will someday be used to "replace and restore impaired limb functions," but the challenge now is making the technology more reliable. 
8. Fully bionic arms
The first man to be fitted with bionic arms was Jesse Sullivan — 14 years ago. Thanks to Dr. Todd Kuiken from the Rehabilitation Institute of Chicago, Sullivan had two bionic arms that plugged directly in to the severed nerves of his amputated arms, which he controls with his brain.
Since Sullivan's 2001 operation, Les Baugh, a double amputee, has been experimenting with his own bionic arms, called Modular Prosthetic Limbs.
It was the first bimanual control, meaning the first time two arms could be mind-controlled simultaneously, said Courtney Moran of the Johns Hopkins Applied Physics Laboratory, according to Mashable.
Sullivan and Baugh might be the foremost examples of a real-life bionic man. But consider everything scientists and engineers have already built: It won't be long before bionic, mind-controlled arms are the Atari game system of prosthetics — and just the first sentence in the redefinition of what it means to be human.