What One College Student's Murder Teaches Us About Misogyny In The Digital Era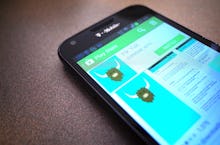 Mandel Ngan/Getty Images
Grace Rebecca Mann was an active feminist and LGBT rights activist at the University of Mary Washington. Friends described her as a "force of nature" and, as her father told the Washington Post, "she just wanted the world to be a beautiful place, a safe place and a kind place." But it seems that her quest to make the world safer for all may have tragically led to her murder on April 17. 
Many cite the anonymous messaging app Yik Yak — and harassing posts directed toward Mann and the group of which she was a vocal member, Feminists United —  as central to Mann's murder. While it's unclear what exact role the app played in this specific case, it has brought unprecedented visibility to the misogynistic, bigoted harassment that this app has generally facilitated for months. Mann's tragic death not only highlights a phenomenon of abuse proliferated by Yik Yak, but also a culture of harassment at large.
A tragic murder
Like so many outspoken feminists on campuses across the country, Mann — an active member of UMW's Feminists United group — was targeted for her activism. Anonymous threats and abusive language largely took place on Yik Yak, which shows messages to a highly localized audience. Other users vote on the posts, which then earns the poster points, or "yakarma." 
In the weeks leading up to her murder, members of the school's rugby team took issue with Mann, who called the team out after a video of members making misogynistic chants spread on campus, CNN reported. More than 700 "overtly sexist and/or threatening" Yaks were posted about the feminist group, many about its specific members, according to the Title IX complaint the group recently filed with the support of the Feminist Majority Foundation. It's unclear whether Mann's killer was directly responsible for any of the posts, but Steven Vander Briel — Mann's housemate and also, notably, a former member of the University of Mary Washington rugby team — has been charged with first-degree murder. 
Though the university's Title IX Coordinator, Leah Cox, was aware of the harassment before Mann's murder, Cox publicly said the problem was with the app itself. "While the University has no recourse for such cyber bullying, Yik Yak and other social media sites do," Cox told the students, according to CNN. "If you find yourself the subject of an abusive or threatening comment on social media, please immediately file a report so that the site can take administrative action."
Yik Yak: A hotbed of harassment 
The founders of Yik Yak clearly intended the localized anonymity at the heart of the product to serve a positive social purpose. As the app's founders told the Guardian in 2014, Yik Yak delivers "relevant, timely content to hyper-local areas of people" by using anonymity to level the playing field. The app "gives people a blank slate to work from, removing all preconceptions about them," the website stated in 2014.
Despite these optimistic goals, the app is largely far more nefarious in practice. "Yik Yak is the Wild West of anonymous social apps," Danielle Keats Citron, a law professor at University of Maryland and author of Hate Crimes in Cyberspace, told the New York Times in March. "It is being increasingly used by young people in a really intimidating and destructive way." 
Mann and other Feminists United members experienced this first hand. "Gonna tie these feminists to the radiator and grape them in the mouth," read one Yak directed toward the group, inventively sidestepping threatening language statutes, according to CNN. "Dandy's about to kill a bitch... or two," read another.
And Feminists United is hardly the first group to receive such Yaks. "Your assholes belong to me now," yakked one user after journalist Hannah Steinkop launched a "feminism" handle (similar to a hashtag) on her campus for a Bitch magazine report. "All of you deserve a nice long cock down your throat. Don't you dare throw up on my dick," responded another on the same campus. Another "yakker" at Kenyon College proposed a gang rape at the school's women's center, according to the New York Times. And those examples simply scrape the surface — the app's proliferation of sexism has even inspired a Tumblr devoted to cataloguing incidents. 
But this is about a bigger problem. 
Despite numerous examples of sexism and misogynistic threats, Yik Yak still sees itself as a place where anonymity enables healthy honesty, whether it's making inside jokes, griping about finals or calling out roommates who won't pick up after themselves.
"It's always disappointing to see rare instances occur that simply don't represent what Yik Yak is all about, and guarding against misuse is something we take very seriously," the company said in a statement, according to the Post. "We've taken significant measures so far by adding filters, pop-up warnings, reporting and moderation within the app, and we will constantly work to enhance these measures."
But the app itself isn't the problem. Yik Yak is just one example of the way technological anonymity allows private attitudes, including sexism, to exist unchecked — a particularly attractive option in an era where personal opinion is increasingly used for public shaming.
This is the dynamic at the heart of online harassment more generally, which, feminists have previously noted, is largely an attempt to silence women. Gamergate — a movement, ostensibly started to improve ethics in video game journalism, that morphed into a campaign of horrifying, misogynistic comments and threats directed at female gamers and critics — is one infamous example. This harassment, Guardian columnist Jessica Valenti wrote in October, is "the last, desperate gasp of misogynists facing an unwelcoming future" and is essentially the way "straight white men deal with a world that no longer revolves exclusively around them."
Yik Yak co-founder Brooks Buffington told the Times in March, "When we made this app, we really made it for the disenfranchised." Truly helping the "disenfranchised," however, may be altogether out of Yik Yak's hands. Truly elevating the voiceless means disrupting a system that compels harassers to speak (or type) hostile messages — not just banning or curbing the platforms that amplify their voices.