9 Shocking Photos of What People Are Really Doing to the Planet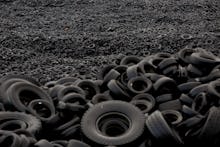 People rarely think about their waste beyond the curb, and it's leading us to a dark place.
Experts warn that waste poses a major threat to our environment and health. While much of it ends up in regulated landfills around the world, much of it does not and tons of it (literally) ends up floating in the ocean. Last week the U.N. chief on the environment also warned of a coming "tsunami" of e-waste, the remains of electronic equipment, that threatens public health. Meanwhile, in the U.S., states like California are still debating how to deal with the 123,000 tons of plastic bags it throws away each year.
The post-apocalyptic landscape that we often see in movies already exists in too many places throughout the world. As these photos show, we're in a dire position.
Five thousand tons of waste are generated in Port-au-Prince, Haiti, every day. 
Los Angeles is forced to spend more than $36 million every year to try and keep its waste out of the water.
Ocean trash, like that in the North Pacific Gyre, is a major concern. Birds, like this albatross, can end up eating the marine trash.
About 70% of the world's e-waste ends up in China, including some of the 5 million television sets that are discarded every year. 
Dudaim, one of the largest garbage dumps in Israel, is also described as one of its most advanced.
Mountains of tires mark the Spanish countryside near Madrid, where they've sat since at least 2003. Now the Spanish government hopes to clean up the site in the next few years.
In the Philippines, this river runs through the heart of Manila and makeshift towns with little to no waste management.
The Matanza-Riachuelo River, outside Buenos Aires, is one of the most polluted places on Earth, according to several nonprofit organizations.
Some 70% of Delhi drinks treated water from the Yamuna River, all while 2,400 million liters of untreated sewage flows into it every day. 
Reversing this will require rethinking the twisted economics of packaging and waste disposal, changing our relationship to the natural world and making sure people see what happens to each item they consume and discard.
As Dr. Jane Goodall once said: "One individual cannot possibly make a difference, alone. It is individual efforts, collectively, that makes a noticeable difference — all the difference in the world!"
It's past time for us to chart a new course.