Snoop Dogg Is the Master of All Genres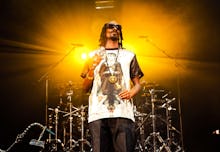 Snoop Dogg may have gotten his start in hip-hop, but over the years he's become one of music's most notorious nomads. Though sometimes he's a punchline in the industry, he deserves far more regard. His ceaseless exploratory enthusiasm is one of the reasons he's been a mainstay in music for so long. In both solo projects and collaborations, Snoop has tested nearly every genre, from country to disco to reggae. His excellent new record, Bush, released this week, only proves how creative and flexible a musician he is.
From country to reggae to old-school West Coast hip-hop, Snoop Dogg is at home in all genres. In fact, it's reductive to consider Snoop as just a rapper. Here are the (sometimes hilarious) crossover moments that prove just how diverse his musical knowledge is:
Country
Snoop's relationship with country legend Willie Nelson led the rapper to make country music. The odd couple took a trip to Amsterdam, and from there the collaboration "sparked up," Snoop said, according to Billboard. "My Medicine" was released on Snoop's 2008 album Ego Trippin', and the two collaborated again in 2011 on Nelson's track "Superman."
During his South by Southwest keynote speech in March, Snoop told the crowd, "When I first met [Nelson], you would think he was a hip-hop artist because he showed love to me as if I was in his world, and I never made country music or none of that, but he understood who I was... I was getting heavy into it and finding country music is a form of hip-hop music. It's the same thing. We're the same people. Don't let the rhythm fool you. It's the same game."
As he says in the beginning of "My Medicine," holding a guitar and wearing a black cowboy hat, "I'd like to dedicate this record right here to my main man: Johnny Cash. A real American gangster ... Grand Ole Opry, here we come."
Funk
In 2013, Snoop temporarily rebranded himself as Snoopzilla for a collaborative album with California funk musician Dam-Funk. While Snoop always had pretty evident funk influences, 7 Days of Funk was his first full-blown foray into the genre. The name Snoopzilla was inspired by Parliament-Funkadelic's Bootsy Collins, who went by Bootzilla.
"We're the babies of the Mothership," Snoopzilla said in a statement (referring to P. Funk's "Mothership Connection") when he announced the album. "I've had funk influences in my music my whole career. Dam-Funk is cold. He's keeping the funk alive and I knew I had to get down with him."
Reggae
In perhaps his most famous cross-genre experiment, Snoop Dogg changed his name to Snoop Lion and took on reggae. After a pilgrimage to Jamaica, Snoop re-emerged with a documentary film and a reggae album, both titled Reincarnated. "I have always said I was Bob Marley reincarnated," Snoop Lion said in a press conference, according to the New York Daily News. "I feel I have always been a Rastafari. I just didn't have my third eye open, but it's wide open right now."
"I'm a wise man in the music industry," Snoop continued. "Not that I'll never do rap again, because I'm always gonna do what I love, but right now I'm Snoop Lion and I'm having fun with this reggae movement, so hopefully you guys will enjoy it as well."
R&B
Contemporary R&B and hip-hop often go hand in hand, and nowhere is that more evident than in Snoop's discography. His collaborations with R&B pioneer and Gap Band alumnus Charlie Wilson cemented Snoop's place in that genre's canon. He and Wilson first collaborated on Tha Doggfather, and worked together frequently, including on Snoop's latest, Bush.
In an interview to promote Bush, Snoop recently told the New York Times Magazine, "I think if rap never came out, I'd have been a R&B singer. I would have been like Rick James, though — an edgy renegade." (This is not to be confused with Snoop's 2004 album, R&G (Rhythm & Gangsta): The Masterpiece.)
Disco
Snoop's first foray into disco was back in 2008 with the song "Sensual Seduction" (the clean version of "Sexual Eruption"). Its accompanying music video and an auto-tuned Snoop threw it all the way back to the '70s. In 2010, Snoop tried disco again with "Sweat" (the clean version of "Wet"), which Snoop wrote specifically for the purpose of performing at Prince William's engagement party. But in 2015, he picked up the pieces and got back to the dance floor alongside Pharrell on Bush's nu-disco track "So Many Pros."
Bollywood
In 2008, Snoop was featured in the Bollywood romantic comedy Singh Is King. He also helped out on the film's title track, which mixes hip-hop and bhangra. "The song has already made it to the top of the Bollywood music charts and is a hit at Indian night clubs," the BBC reported in 2008. Snoop donned traditional Indian garb for the music video, and went on to tour in India in 2012. "Snoop Dogg has a lot of fans in India and I love 'em right back," he told the BBC. "Get ready for me."
Outer space
Snoop made a very smart business decision in 2009 when he hooked up with astronaut Buzz Aldrin, aka Doc Rendezvous, for the song "Rocket Experience." Talib Kweli, Quincy Jones and Soulja Boy got in on the action too. It was actually a video for Funny or Die, lest anyone take a really old white dude rapping about space too seriously. "That's hot right there, man," Snoop says in the making-of video. "That was gangsta."
"We was posted up at my pad, playing a little video game, Fight Night 4," Snoop says. "Buzz leaned over and was like, 'Yo Snoop, I'm thinkin' about doin this record to commemorate my 40th year anniversary of walking on the moon.'" One giant leap for mankind.