One Tweet Proves Why Police Violence Against Black Women Needs Our Undivided Attention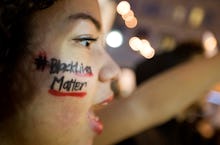 They say it was an accident.
Natasha McKenna, 37, was killed by Fairfax County, Virginia, sheriff's deputies on February 3. A diagnosed schizophrenic, she was tethered to the door of her jail cell that day, hands cuffed, legs shackled, with a hood placed over her head to "keep her from spitting," the Washington Post reports.
Six deputies tried wrestling her into a restraining chair so they could move her, striking her repeatedly and shocking her four times with a stun gun while she was bound. She later died in a hospital after a jail nurse found that her pulse had stopped. 
Last week, the Virginia medical examiner's office ruled her death "accidental."
McKenna is one in a long line of black women who've been killed, assaulted or otherwise brutalized by America's police in recent months. The nature of her death — its callous and dehumanizing cruelty — is especially troubling in its parallels to how black women were treated during our country's slave-owning past.
Crystal M. Fleming, an assistant professor of sociology and Africana studies at Stony Brook University, tweeted this on May 5 to highlight the historical similarities:
The history she's referring to is this:
The above story details what happened to a 13-year-old enslaved black girl in Richmond, Virginia, in 1863, about 100 miles from where McKenna was killed 152 years later.
According to the Harper's Weekly article cited in the tweet, the girl somehow "annoyed or upset" her mistress, who then locked her in a room alone for more than a week and burned her repeatedly on the back. The mistress was arrested and later released on $5,000 bail. Aside from its chilling commonalities to how the Fairfax County sheriff's department treated McKenna, this older incident highlights why the ongoing violence leveled against black women by those in power — past and present — requires immediate action.
The timing could not be more ideal. Ever since former police officer Darren Wilson shot and killed unarmed black 18-year-old Michael Brown in Ferguson, Missouri, last August, a generation of protesters and policy advocates has been galvanized into action against anti-black police violence. As the protests have grown, so has the list of the dead: Eric Garner, Ezell Ford, John Crawford III, Tony Robinson, Anthony Hill, Walter Scott, Tamir Rice, Freddie Gray and others.
Many of these have become household names, and at least two — Brown and Gray — have sparked riots in their respective cities. Conspicuously missing from this list, however, are the names of women: names like McKenna, Mya Hall, Eleanor Bumpurs, Rekia Boyd, Tanesha Anderson and Aura Rosser.
Our lack of awareness about these women and their stories — and the comparative absence of protest they've inspired — speaks to a fundamental gap in how we understand police violence against black people. It's not just a problem that affects black men, even if that's how it is understood. Even when the end result falls short of death, black women are subject to similar patterns of racial violence as their male counterparts — whether they're being beaten into submission on California highways or during jaywalking citations at Arizona State University.
McKenna's death also raises questions about police treatment of people with mental illness, an intersecting issue that exacerbates the racial violence. Her death was ruled an accident only because she's said to have succumbed to "excited delirium," a debated and sporadically recognized medical condition in which sufferers — often mentally ill people or drug users — assume "extraordinary strength," inability to feel pain and, sometimes, sudden death, the Washington Post reports. 
But the bigger problem is this: If we're not galvanized to action by these Virginia sheriff's deputies brutalizing an unarmed black woman in almost the same way a slave mistress brutalized her slave in 1863, then we need to be more honest about whose #BlackLives we really think matter. Any movement against anti-black violence is incomplete so long as it ignores violence perpetrated against black cis and trans women. 
Simple as that.
Correction: May 18, 2015