Kids in Japan Are Doing Something Incredible That the U.S. Should Consider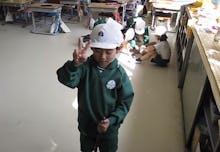 Aside from turning out some of the world's top students, Japanese schools are helping them become some of the most conscientious citizens. They are teaching kids a simple lesson: how to clean up after themselves. 
The practice, which starts when students are in first grade and continues right through high school, involves floor dusting, furniture moving and cleaning the hallways.
Yumi Tagawa, a 43-year-old who moved to the U.S. from Osaka, Japan, when she was 21, took part in this practice from age 6 to 17, like most of her peers in school. Every day, Tagawa and her classmates would push aside their classroom's desks and chairs and start to clean, as well as the hallway's floors. Once she got older, the school bathroom was added to the list as well.
"We did it because it was an obligation," she told Mic. Tagawa, who now works as a business development manager in midtown Manhattan, said she had no idea any of it was out of the ordinary. "It wasn't a foreign idea until I moved here," she said.
Tagawa's experience taps into a national trend. Japan has no national mandate, but numerous schools in the country require students to clean their schools daily. According to a 2001 article in the Japan Times, cleaning duties usually include some form of scrubbing, sweeping and dusting but varies from school to school, with some drawing the line at toilets.
The actual process can look something like this:
If students are personally required to take care of their surroundings, the thinking goes, they will waste less and treat their environment with more respect. The group cleaning also creates an equalizing sense of purpose and community among those who participate. The idea has also taken root in other parts of Asia, such as Taiwan and South Korea.
The counterargument: "The purpose of a public school is to educate," Pat Puleo, president of the Yonkers Federation of Teachers, told Mic. "I'm not sure that you could force child labor."
Puleo was sympathetic to the argument students should be obligated to take care of their surroundings and stressed that Yonkers schools had students washing blackboards, stacking chairs and cleaning the tops of their desks. However, she drew a firm line on requiring much more, like cleaning bathrooms and picking up glass. 
An American approach: Not all U.S. educators share Puleo's skepticism. In April, NPR reported a small number of American schools had experimented with students cleaning school grounds, including toilets, and had reported positive outcomes. The Armadillo Technical Institute, a charter school in Phoenix, Oregon, is one such place. 
"We really wanted a school where the students took ownership and made it their own," Kim De Costa, the school's executive director, told NPR. According to NPR, the work at Armadillo is divided equally among the student to limit the most undesirable jobs, like cleaning bathrooms, to just two or three times a year per student. 
Students taking responsibility for their schools does not have to be a false choice between child labor and the current system, nor should it be an exotic solution to saving a few pennies in school budgets. Rather, what Japan's model does is teach fundamental life skills which go far beyond math and science. An approach that ignores this by focusing solely on "education" does its students a great disservice.