Here's What Happens When LeBron James Likes Your Booty Pic on Instagram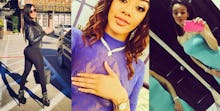 Most Instagram likes don't result in life-changing epiphanies. But what happens when the person who digs your photo is NBA phenom LeBron James?
A lot, it turns out. For Josett Latrice, a veterinary student, it was "a sign from God" when James double-tapped her photo — a full-body shot that got snagged from her personal Instagram profile and rehosted on an aggregator account called @perfectbooties.
But first, let's look at what made this particular like so incredible.
LeBron was on a self-imposed social media break. Every year his team makes the NBA playoffs, James takes a breather from the Internet to focus on his game. "Zero dark thirty-23 activated #StriveForGreatness," he wrote on Instagram in April. 
But when the married father of three saw Latrice, he couldn't resist. Of course, the Internet spotted his like immediately. Anyone who follows James can see his activity in Instagram's Activity column.
Latrice was featured on a softcore-porn Instagram account — without her knowledge, she says. Perfect Booties boasts 1.1 million followers and a whole lot of butts. There are no nudes allowed, but the photo roll is more than NSFW. The page also charges women between $10 and $300 to submit their own shots. Some photos' sources are vague, however. They may be submissions from followers or curated samples from around Instagram. 
It's also unclear if every photo is consensual — or if every model is over 18. One recent shot features a young woman of unknown age wearing yoga pants and bending over a school desk; it looks like a fellow classmate snapped it without her knowledge. Such content could be categorized as revenge porn.
Latrice says she didn't know her photo was on the site until after she started going viral. "I didn't even know until someone sent me the article," she told TMZ. "I was like, 'That's my picture!' I'm not a booty model."
Still, she sees an opportunity here. Latrice is allegedly considering dropping out of veterinary school. There are no official offers yet, she said, but "talking to agencies" is the next step. She probably won't have trouble scoring meetings: Men's lifestyle sites are already obsessed with her, and the media attention hasn't let up yet.
Latrice says she's proud of her body. "This is going to sound crazy," she told TMZ. "I've been 100 pounds my whole life. Just recently, three months ago, I gained 30 pounds, and ... it all went to my butt."
But, as Uproxx warns, "minor Internet fame doesn't last long." Latrice should stay in school, cautions writer Brandon Southward: "If, after graduating, she still feels the itch to model full-time, then she has plenty of time to try, but at least she'll have a degree to fall back on."
Latrice says she hopes to get her face and name out there and launch her career. "This is definitely a sign from God," she told TMZ. "He wants me to be a model ... [but] definitely not a booty model." 
h/t TMZ