17 Powerful Photos of Nepal After It Was Hit by Another 7.3-Magnitude Earthquake Tuesday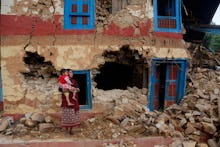 A 7.3-magnitude earthquake struck Nepal on Tuesday, with two huge aftershocks, only two weeks after a devastating 7.8-magnitude earthquake, which claimed more than 8,000 lives.
The earthquake started around 12:35 p.m. local time, with the epicenter approximately 50 miles northeast of the capital, Kathmandu. According to official reports 1,009 injuries and 32 deaths have been confirmed so far.
The slow recovery efforts since the April 25 earthquake, which left millions living in tents, was an ironic savior, making the death toll considerably lower than last time. More than 75% of buildings in Kathmandu were deemed uninhabitable or unsafe after the first earthquake. People rushed to get away from the buildings that still stood and patients inside of hospitals, recovering from the April 25 earthquake, were quickly removed to the streets to avoid any further injuries.
Recovery efforts of the April 25 quake have been a struggle thus far. "We have hardly met 20% of the demand of the people. We are having difficulties reaching affected areas due to a lack of vehicles and helicopters," Krishna Gyawali, a senior Nepali bureaucrat, told the Guardian. 
This is compounded by the government's slow response to the aid itself. Materials are reportedly gathering at the country's only airport in Kathmandu because customs has not been fast enough in processing them. A weight limit for incoming aircrafts with supplies was also instituted as the influx of international assistance was taking too great a toll on the airport's single runway. Furthermore, heavy rainfall and continued aftershocks have posed even more obstacles. The most recent round of devastation will no doubt complicate matters further, during what has already been a slow and painful road to recovery.