The World's Best Boss Took His 6,400 Employees on $22.3 Million French Riviera Vacation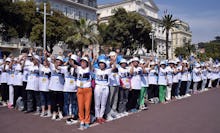 Li Jinyuan just might be the boss of the year.
The billionaire CEO of the Tiens Group, a Chinese health care products company, just wrapped up an all-expense-paid French vacation for 6,400 of his employees last week. The official reason was to mark the company's 20th anniversary, ABC News reported. 
The corporate titan booked out 5,000 rooms in Cannes and Monaco as well as 140 Parisian hotels. The Associated Press reports the total price tag was estimated at as much as $22.3 million.
The trip included a private tour of the famous Louvre museum, a performance by the Moulin Rouge cabaret, a parade composed entirely of company employees and what might have been the world's largest human sentence spelled down the French Riviera's Cote d'Azur, according to ABC.
From the looks of it, they had a fabulous time:
While no doubt a publicity stunt, Li's move to reward his employees should remind everyone that corporations are only as good as the people who work there; managers and owners bear a unique responsibility for their well-being.
In the United States, where wages have stagnated and the middle class is so under siege that presidential candidates are afraid to even mention it, at least some workplaces are starting to give back.
Li's much heralded French getaway comes only weeks after Seattle-based CEO Dan Price of Gravity Payments announced he would be raising the company's minimum wage to $70,000 largely by taking a massive personal pay cut. Starbucks, meanwhile, announced a plan last month to offer a free ride to employees wishing to pursue a four-year college degree. Companies like Google, long considered one of America's best workplaces, offer employees everything from free meals to yoga to child care assistance. 
While the actions of business leaders like Li and Price are incredibly laudable, there is only so much individuals can do to move the needle. To build more progressive societies, governments in China, the U.S. and elsewhere around the world must codify the spirit of private generosity into a lasting public good. If all workers were treated like those at Google, Starbucks or Tiens, stories like this wouldn't be so newsworthy.