Watch Chance the Rapper Give Chicago High Schoolers the Show of a Lifetime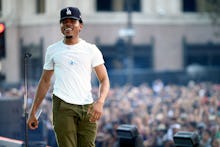 On Monday night, Chance the Rapper gave a group of Chicago high schoolers the best hip-hop show they could ask for. He hosted his fifth in a series of open mic events designed to provide the city's youth with a platform to express themselves and encourage their creativity. But on Monday night, the young performers at Monday's event got to share the stage with true masters: Kanye West and up-and-coming Chicago rapper Vic Mensa.
With a short performance, the two hometown heroes drove the crowd wild:
Showing the next generation how it's done. Chance and Mensa both represent a new generation of the thriving Chicago scene that gave us Kanye. They each got their start performing at open mics in local libraries and schools. The two rappers have collaborated frequently in the past, appearing at each other's shows and on each other's tracks. But while Mensa has been hanging with hip-hop's elite, like Kanye and Jay Z, Chance has been nurturing his quirky creative collective, the Social Experiment, and crafting special events for Chicago's youth.
At the show, West and Mensa performed Mensa's "U Mad," which features a verse from Kanye, as well as West's "All Day." Chance the Rapper also took the stage to help the duo perform the Yeezy classic "We Don't Care," which West recorded for his debut album as "the perfect song for the kids to sing."
Best free 99 ever spent. Like all Chance the Rapper's open mics, the event was free. All kids needed to do to get in was show a high school ID. Chance named the series "Open Mike" after his and Vic Mensa's mentor, poet Mike Hawkins, who passed away in December.
"Musically, from before he passed, he's just been a huge influence, and teacher, and molder of me [from] when I was 14 years old," Chance told Complex. "I would think the open mic thing would be musically how he affected me, him building that space for me. And also, in his passing, taught me that's my job. I'm not a mentee anymore ... [The] gratification of being donned a great rapper isn't as important as giving people the resources they need in order to make the statements they want to make."
The Open Mike series provides those resources in force, and it seems much of the support comes from good-willed volunteers:
Chance the Rapper's Open Mike series will hopefully become a Chicago institution. It's an incredible outlet to keep youth focused on their craft. What could turn up the drive of an aspiring artist more than sharing a stage with three of Chicago's finest? Pretty much nothing.
h/t Pitchfork