In One Quote, Dr. Kanye West Proved Why He Deserves His Honorary Doctorate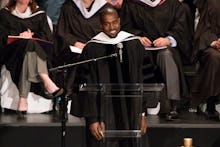 The School of the Art Institute of Chicago awarded Dr. Kanye West an honorary doctorate Monday. Though this is a prime moment for people to slam him for thinking too highly of himself, the Chicago native and college dropout accepted the award with a surprisingly humble speech.
A doctorate is a high honor. But if anybody doubts West's merit, they need only look to his lecture Sunday evening at the school. During his hourlong Q&A, West spoke about hip-hop stereotypes, dumbing down his music and compromising for art. And he proved he truly knows what art is all about:
"I think that that's also the responsibility of artists — to try to get away with whatever you can. Because everyone's compromising. Everyone is placing themselves in a social debt based on how big their house is, how fast their car is and how fast the car is next door to them. They're losing their art, they're losing their passion, they're losing their purpose. ... And there's no value of house, or car or idea debt that could control the 3-year-old that I have inside of me that will stop my artistry, that will stop my truth."
An excellent point: In a world where social currency is as valuable as original thought, artistry naturally becomes devalued. But it's the job of artists like those at SAIC, and West, to hold up the value of original artistic thought over socially acceptable norms. Especially if that means making mistakes in the process. 
It also proves that West's often divisive public behavior fits well into his artistic project. Prior to his speech, opinions at SAIC varied over whether honoring him was the right move. "Many lean towards 'no' because of the rapper's behavior," an SAIC student wrote for Complex. The behavior in question likely includes the rapper's repeated and highly public outbursts, like this year's Grammy Awards in which he crashed Beck's acceptance speech or the infamous moment he called out President George W. Bush on national television.
But ultimately that's what makes West a great artist — he tries to get away with whatever he can. That's not a defense of his arrogant behavior or outbursts so much as it is a defense of an artist's right to make mistakes. Because no transformative art has ever come of playing it safe, and no one understands that better than Dr. West. 
Listen to the full lecture here.