6 Questions the New Hillary Clinton Needs to Answer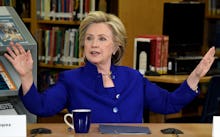 Hillary Clinton entered the Democratic presidential primary one month ago. Since then, she has bounced in and out of the public eye, mostly passing up impatient and scoop-thirsty reporters in favor of more friendly lines of questioning, like those from pre-screened students at a roundtable on immigration reform May 5 in Nevada. Clinton last took questions from the press on April 21, and her answer was broad and evasive. Republicans have begun to take notice.
"Like Hillary Clinton, I'm also running for president, but unlike her, I'm not afraid to answer questions about my record," GOP primary candidate Carly Fiorina said at the South Carolina Freedom Summit this past weekend.
Unlike Fiorina, Clinton began the race as a national political brand. She does not, as an electoral imperative, need to run head first into the news cycle in order to build interest among voters. But patience can easily be mistaken for calculated silence, so a little more than eight months out from the Iowa caucus, the time for Clinton to deliver specific answers to the animating questions of the 2016 campaign is here. 
Here are six fundamental issues Clinton will be forced to address as we move closer to the primary debates and voting season:
1. Does she support Sen. Bernie Sanders' (I-Vt.) proposal to break up the big banks?
In a statement issued Wednesday, Sanders set out his plan, listing the banks he would target based on their current balance sheets; the barometer for measuring whether an institution is "too big"; the federal agency he'd charge with enforcement; and the particulars of how the government would compel banks to actively avoid these consequences.
Clinton began her campaign with a sharp rhetorical indictment of compensation in the financial services industry.
"There's something wrong when CEOs make 300 times more than the typical worker," she said at an event in Iowa. "There's something wrong when American workers keep getting more productive ... but that productivity is not matched in their paychecks."
Clinton went on in this vein and has repeatedly stated her desire to be a "champion" for "everyday Americans." But for the liberals she is courting ahead of the Democratic primaries, this will not be enough. Clinton has articulated some of the symptoms of growing economic inequality, but now she must put forth a plan of treatment.
2. How can she lead the fight against money in politics while relying on a super PAC to get elected?
During that same campaign stop in Iowa, just days after formally joining the contest, Clinton again delighted liberals by slamming the Supreme Court's decision in Citizens United v. FEC.
"We need to fix our dysfunctional political system and get unaccounted money out of it, once and for all, even if that takes a constitutional amendment," Clinton told supporters in Cedar Rapids.
But the New York Times reported Wednesday that Clinton would court donors for a Democratic super PAC called Priorities USA Action. According to the New York Times, she began raising money for the group during a trip out West last week. Though Clinton would likely argue, similar to President Barack Obama in 2012, that she would be doing proponents of reform no favors by taking a principled stand and losing the money race by hundreds of millions of dollars, the decision complicates her position. A clearer explanation of her decision and a more detailed roadmap to reform would go a long way in soothing the consciences suspicious voters.
3. The Class of 2015 is the most indebted in history. What measures would Clinton pursue to lessen that burden and prevent future graduates from facing similar crises?
On a presidential campaign, especially one as closely cataloged as Clinton's, top level aides rarely say anything by accident. So when campaign manager Robbie Mook appeared Wednesday morning on CNBC and floated the idea of "debt-free college," reporters bolted upright. Affordable higher education is going to be one of the defining issues of the Democratic primary and, more importantly, a potential boon for the general election candidate best-positioned to argue on its behalf in front of notoriously slow-to-the-polls young people.
Clinton has already signaled her approval for Obama's plan to make community college free, but she remains less clear on the prospect of this bolder action. Mook promised more details to come. Clinton would be wise to follow through.
4. In an recent speech, Clinton said the time had come to "end the era of mass incarceration." How would she address this as it relates to federal drug policy?
As Baltimore was seized by protests and riots in the aftermath of the police killing of Freddie Gray, Clinton set out an ambitious call to reform the country's justice criminal justice system.
"We have to come to terms with some hard truths about race and justice in America," Clinton said. "There is something profoundly wrong when African-American men are still far more likely to be stopped and searched by police, charged with crimes and sentenced to longer prison terms than are meted out to their white counterparts."
The challenge for Clinton going forward is to explain how show she would go about her work — pushing to decriminalize marijuana on the federal level would be a start — in the face of what is sure to be withering criticism from her eventual Republican foil.
5. Clinton has walked a fine line on trade deals like the controversial Trans-Pacific Partnership. Would she support TPP as it is understood now? 
Like NAFTA, the TPP is a trade agreement that would lower import tariffs and make it easier for American companies to sell their goods in overseas markets. On the flip side, the deal would also make it easier for foreign firms (and certain domestic retailers) to drive down prices — and with that, the price of labor — in the U.S. This is complicated stuff. Obama and his liberal frenemy Sen. Elizabeth Warren (D-Mass.) have exchanged heated rhetoric over the potential outcome. On Tuesday, Senate Democrats blocked an attempt to give Obama "fast track" authority to negotiate an accord.
Clinton, who supported the deal in its earliest iterations during her time as secretary of state, has steered clear of the particulars, saying April 21, "Any trade deal has to produce jobs and raise wages and increase prosperity and protect our security. We have to do our part in making sure we have the capabilities and the skills to be competitive."
She'll have to say more, and soon.
6. Clinton tweeted support for a bill to clamp down on the NSA's mass surveillance of U.S. citizens. What new steps would she take to protect privacy rights?
American presidents aren't in the business of willfully ceding power to Congress. If the Patriot Act or its potential replacement, the White House-backed USA Freedom Act, are to meaningfully reform the current elements of the law used to justify the mass surveillance of millions of U.S. citizens, bipartisan groups in the House and Senate will need to act soon. Section 215, which the government argues (in spite of a recent federal court decision) allows for the bulk collection of phone data, is set to expire on June 1.
If proponents of the NSA spy programs in Congress block work to rewrite the rule or allow it to sunset, the 2016 candidates will be faced with even tougher questions on how they would manage this immense power.
On the clock: The longer Clinton waits, the perception of her avoiding these issues for the purposes of political expedience grows. And with that, a recognizable narrative emerges — Clinton as conniver, slave to the polls. The Washington Post has "a clock that counts the minutes since Hillary Clinton answered a press question," and the New York Times has dedicated a Facebook post to collecting questions for the candidate to answer, whenever she sees fit to respond. 
Is it fair? Ultimately, the voters will decide at the polls. For now, this is the cost Clinton pays for her enviable early lead.