Watch Two Daredevils Speed Through the Skies Over Dubai in Jetpacks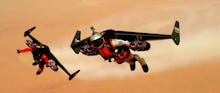 Stuntman Yves Rossy owns some of the only truly working jetpacks in the world, capable of flying up to 160 miles per hour and executing precision turns simultaneously. Now the Swiss "Jetman" and his protege, BASE jumper Vince Reffet, have recorded a stunt reel of completely bonkers series of flights over Dubai...
... in 4K video quality... from their GoPros.
The resulting video, "Young Feathers 4K," might just be one of the most intense things you'll ever see. Rocketing in death-defying formations across first the desert then the Dubai skyline itself (including a jaw-droppingly close fly-by of the Burj Khalifa, the tallest building in the world), Rossy and Reffet push it to the absolute limit of both aeronautical skill and pilot safety.
Rossy's jetpack cost more than $190,000 to produce in 2008. After several years of upgrades, he makes Buzz Lightyear look like a heap of plastic junk:
"The future of human flight is clear," Rossy concludes in the video. "To be completely autonomous like a bird. The real dream is to be completely free, completely free."
If you're not inspired after watching Rossy and Reffet smash through all the barriers imposed upon humans by our feeble bodies, then you truly have a heart of stone.
Watch the whole thing below: