The Muppets Join ABC: Here are the Network's New Fall Shows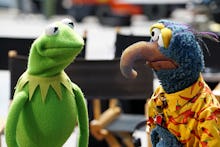 Prepare yourselves, Miss Piggy fans: Starting this fall, you'll be able to see her every Tuesday. In a press release sent out this afternoon, ABC announced its upcoming programming schedule, including five new shows. Chief among them is The Muppets, a half-hour mockumentary series.
As Mic previously reported, The Muppets will be a more adult look at everyone's favorite band of furry puppets. It will delve into the characters' relationships and go behind the scenes of a new TV show.
That's not the only big play ABC's making this fall: Of Kings and Prophets is going to make an impact of Biblical proportions on ABC Sundays. Ray Winstone stars as King Saul in what ABC is calling a "saga of faith, ambition and betrayal as told through the eyes of a battle-weary king, a powerful and resentful prophet and a resourceful young shepherd on a collision course with destiny."
Intriguingly, ABC is keeping quite a few of its new shows in the holster. Shonda Rhimes apprentice Jennifer Schuur's The Catch is ABC's buzziest new drama, but it's being held to replace How to Get Away with Murder after the Viola Davis hit wraps its second season. 
Also being held until midseason: The Real O'Neals, a show about a boy who comes out to his traditional Catholic family, produced by columnist and activist Dan Savage.
Check out ABC's full schedule below, plus trailers for the network's other new fall shows. (New shows are marked in bold; all times Eastern.)
Mondays
8 p.m. — Dancing with the Stars
Tuesdays
8 p.m. — The Muppets
Wednesdays
8 p.m. — The Middle
Thursdays
8 p.m. — Grey's Anatomy
Fridays
8 p.m. — Last Man Standing
Sundays
7 p.m. — America's Funniest Home Videos