Meet the Kung Fu Nuns Fixing Nepal After Its Devastating Earthquakes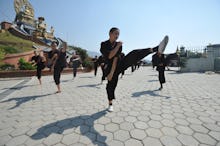 Nepal has been devastated in the past few weeks. More than 8,000 people died after the country was rocked on April 25 by a magnitude-7.9 earthquake, and on Tuesday it endured yet another major earthquake, this one of magnitude 7.3, resulting in more than a thousand injuries and dozens of deaths confirmed so far. Between the two quakes, aftershocks and heavy rainfall made recovery efforts difficult. 
But amid this tragedy, some unlikely heroes have emerged: the so-called "kung fu nuns." These Buddhist nuns of the Drukpa order live on the outskirts of Kathmandu at the Druk Amitabha Mountain nunnery, where they have incorporated the martial art into their Buddhist practice. Three hundred of these nuns refused to be evacuated after the April quake in order to stay and help with recovery efforts.
When their nunnery began to crumble during that first earthquake, "the nuns jumped through shattered glass windows, smashed open rattling doors and dived over a collapsing staircase," the Washington Post reported. "They have been training for about four years to react with just such speed and agility."
After tending to their monastery, the nuns have dedicated their time to helping others in nearby villages. They do everything from removing rubble to clearing paths. They distribute food, too, and help erect tents to provide shelter for the millions of Nepalis who are now homeless.
Wait... where did they come from? Traditionally, Buddhist nuns are trained in simplicity and expected to perform domestic chores in nunneries and monasteries. Roughly 26 years ago, taking issue with the inherently patriarchal and sexist Buddhist monastic framework, members of the 800-year-old Drukpa order rebelled to form the more feminist Druk Amitabha Mountain nunnery. They took that goal a step further in 2008, when their leader, Gyalwang Drukpa, introduced kung fu to the nunnery after being inspired by female martial arts in Vietnam.
In addition to martial arts, the Guardian reports, the Drukpa order teaches its nuns rudimentary business skills and how to lead prayers. 
The nuns have said the kung fu has both improved their self-confidence and made them better at meditation. They have used it for campaigns promoting community work and against toxic waste, not to mention women's empowerment, the Washington Post reports. Not only are these nuns helping their community, but they are also defying gender norms in a larger way, challenging what it means to be a woman in Nepal. 
To be a woman in Nepal: Nepal is not the worst country when it comes to gender parity, but it's by no means exemplary. Strides have been made in education, and enrollment rates for boys and girls in primary and secondary school are practically the same, according to the World Economic Forum's 2014 Gender Gap Index. But there remains a legacy of inequality, with only 47% of women literate, compared to 71% of men.
And, as is often the case in poor countries, women and girls suffer in a multitude of other ways. Women have had to bear the brunt of earthquake damages, keeping families together and participating in recovery efforts, as a substantial number of men are abroad earning remittances, Public Radio International notes. Women and girls are also particularly vulnerable to exploitation by human traffickers, who may target Nepal in the chaos.
This makes populations like the Druk Amitabha Mountain nunnery particularly important. Their ethos of female empowerment, and their role in recovery efforts, offers a symbol of hope for women and girls across the country.