This Son Took Mother's Day to the Next Level By Helping His Mom Find Love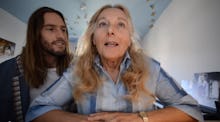 What did you get your mom for Mother's Day? A sweater or a necklace? Tickets to a concert?
How about a boyfriend?
Model son Alex Lyngaas stepped up his Mother's Day game, creating a beautiful video to tell the world how amazing his single mother is — and how deserving of a partner she is.
The video, complete with Wes Anderson-worthy tunes and Instagrammable scenery that Norgay took nearly a year to shoot and produce, spotlights Eva, a vibrant, kickass sexagenarian who just happens to be single. 
"The long story short," states Alex in a voiceover, "My mother is single, and she deserves a good man. The last couple of years, she's been trying to find love and even gone on a few dates. But it just hasn't worked out. Which brings us to the here and now, in my hopes that you might be or, if not, at least help me find the love of her life."
So what kind of man would make a good Adam for Eva? To know, Alex says, just look to her many passions:
Basically, Eva has more interests, energy and vibrancy than many women half her age.
Will the sweet video, now circulating YouTube, find Eva a partner for her many outdoor adventures? Only time will tell. In the meantime, Alex has demonstrated the best way we can honor our mothers: thinking of and respecting them as the complex, layered women they are.
After all, even the best-meaning kids can forget that our parents have passions, interests and even complicated emotions — yes, including romantic ones — of their own. If you ever forget? Just check out the indefatigable Eva. 
Correction: May 12, 2015
An earlier version of this article incorrectly stated the filmmaker's last name as Norgay. His name is Alex Lyngaas.