The State of California Just Proved How Important Kendrick Lamar's New Record Is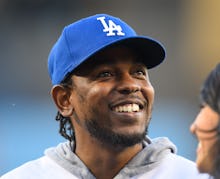 On "King Kunta," Kendrick Lamar raps, "From a peasant to a prince to a motherfuckin' king." As of Monday, Lamar can add one more title to that evolution: a Senate-certified icon.
On Monday, Lamar became California's 35th Senate District's Generational Icon. California state Sen. Isadore Hall III, also a Compton native like Lamar, awarded him the honor in a short ceremony on the California Senate floor. But in just four minutes, Hall revealed just how essential To Pimp a Butterfly and Lamar have been to Compton, California, and hip-hop as a whole:
A local legend: Hall's speech about how much Lamar has given to the community was nearly breathless. "In less than 10 years as a professional artist, Mr. Lamar has gone from a local Compton young boy to become a multiplatinum, Billboard chart-topping, two-time Grammy Award-winning musician — an incredible achievement for anyone 27 years old. But Mr. Lamar has not let his recent fame get the best of him," Hall said introducing Lamar. "If you visit Compton ... Mr. Lamar is a familiar face in the neighborhood ... giving back to his community that raised him."
Hall enumerated some of the many ways Lamar has sought to give back, in and out of the recording booth. 
"He has personally donated hundreds of thousands of dollars to support sports programs, after school programs, music programs in the Compton Unified School District to help keep Compton students off the streets and in the classroom," Hall said. "Mr. Lamar has not only given voice to a new urban youth, he is demonstrating the best of what it means to work hard, do well and give back to his community."
Lamar's side: Lamar responded to Hall's praise with a short speech, by saying this is exactly what he's wanted to do since day one. 
"Being from the city of Compton and knowing the parks that I played at and the neighborhoods, I always thought how great the opportunity would be to give back to my community off of what I do in music," Lamar said. "I thank you from the bottom of my heart for honoring me." 
His album's legacy: This moment of recognition is what Lamar's now-legendary To Pimp a Butterfly was all about. The album can be viewed as a story of him coming to terms with his celebrity, as he struggles with transitioning from being a rapper to a leader for his community.
"My new meaning for 'keepin' it gangsta' is totally different from the usual," Lamar told Mass Appeal about the impact he intends to leave on hip-hop. "It's really about takin' care of your family, handlin' your business and puttin' positive energy out there where everybody can benefit from it, not just yourself."
It seems his message is getting through. His Senate recognition is further proof of how significant his impact on hip-hop this year alone has been. It also offers Lamar a solid credential if he's ever looking to fulfill his claim on "King Kunta" that he "should run for mayor."
"Them words are no coincidence," Lamar told Mass Appeal referring to the hints of political ambition scattered throughout the album. "They were well thought out."
h/t Pitchfork