Elizabeth Warren Just Dealt a Huge Blow to Obama's Controversial Trade Deal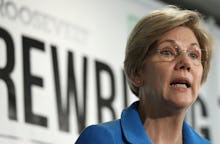 On Tuesday, President Barack Obama found that his foes were his friends and his friends were his foes.
Senate Republicans voted in favor of considering a procedural motion that would grant the president "trade promotion authority" on a colossal international trade deal known as the Trans-Pacific Partnership. That authority would allow the administration to work on the deal in a manner immune to amendments or filibusters in Congress, according to the Huffington Post. But Senate Democrats blocked it.
Why are the Senate Republicans more in sync with the White House than his own party? Because the Democrats are concerned about giving Obama a free pass on TPP, a sprawling trade accord that includes 11 other countries and roughly 40% of the world's economy.
Victory for the left: The Democrats' defection represents a victory for the left wing of the Democratic Party, who have opposed both the deal and its extraordinarily secretive negotiation process for several reasons, ranging from the concern that it does little to protect American jobs to environmental problems to the worry that it would allow foreign competitors to manipulate currency to the detriment of the American economy. 
Sen. Elizabeth Warren (D-Mass.) has been particularly vociferous in her dissent against the TPP, and has elicited a strikingly aggressive response from the president for it. Their public back-and-forth has been going on for weeks, but on Tuesday, it was clear that Warren's skepticism of the deal had prevailed.
At this point, the White House will likely to have to accept enforcement provisions on TPP-related legislation in order to win the Democrats over. But as the New York Times put it, this poses a potentially crippling Catch-22.
[T]he vote Tuesday presented Mr. Obama what might be a no-win situation. He may have to accept trade enforcement provisions he does not want in order to propel the trade legislation through the Senate, but those same provisions might doom the Pacific trade negotiations that legislation is supposed to lift.
Which drives home the point that if a deal is likely to fail because of transparency or a desire for any kind of regulation by the legislative body of a democracy, then we should probably be wary of the deal itself.