Frank Ocean's New Album Is Gonna Be Revolutionary — Here's Everything We Know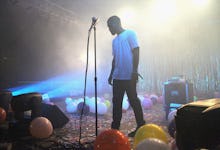 Frank Ocean is the most interesting pop star in the world. In 2012, he released the biggest record of the year, Channel Orange. It won Grammy Awards and widespread critical acclaim. He performed it at the biggest festivals and award shows. But after the moment was over, Ocean disappeared, becoming as reclusive as the Buddhist monks he's written about on record, leaving nothing but rumors in his wake.
In the ensuing three years of relative silence, he's been busy dreaming up something big. Last month, Ocean finally resurfaced to announce  he will release his sophomore album in July. It won't be a normal release though — in the time away he's dreamed up a new sound and even an accompanying magazine titled Boys Don't Cry. But that isn't the only surprise coming with the album. All the news that's surfaced points to it being a revolutionary moment for pop and R&B — perhaps to an even greater extent than either of his previous work.
Absolute "fire": Looking at the range of talents Ocean is rumored to be working with, he's trying to do something unprecedented.
In a 2013 interview with BBC Radio, Ocean mentioned working with Pharrell Williams, famed producer Danger Mouse, young British singer King Krule and Tame Impala's Kevin Parker. An April Pitchfork article name-dropped even more collaborators like Hit-Boy, the beatmaker behind "Niggaz in Paris" and Kendrick Lamar's "Backseat Freestyle"; Rodney Jerkins, producer for R&B greats Whitney Houston, Michael Jackson, Destiny's Child; producer Happy Perez and composer Charlie Gambetta, both of whom Ocean has collaborated with previously; and Kevin Risto, half of the production team Midi Mafia responsible for 50 Cent's "21 Questions."
If any artist could fuse these indie darlings and mainstream R&B producers into a seamless and unprecedented style, it's Ocean.
"Everyone should be excited about this new album — that shit is fire," Nabil Elderkin, video director behind Ocean's "Pyramids" video, told BuzzFeed in June 2014. "He's making a great record. It blows the sophomore album myth out of the water."
The new songs prove it: Though we have yet to hear anything official from the record, all of Ocean's offerings since Channel Orange have been intriguingly evasive. His 2014 "Hero," cut in collaboration with Diplo and Mick Jones and Paul Simonon from the Clash, oscillates between island-tinged doo-wop and anthemic punk.
Source: Soundcloud
"Memrise" offered a much more stripped down, ethereal songwriting style, including an insistent semi-melodic, proto-rap verse. Pitchfork writes the song "might" appear on the album.
Frank the rapper: Several writers have suggested the new album may include quite a bit of rapping — a total left turn from his last release. In March, Brian Wilson told Vulture he nixed Ocean from his recording sessions for No Pier Pressure because Ocean insisted on "rapping." It's a welcome change; Ocean is an excellent rapper — just look at his verses for Earl Sweatshirt's "Sunday," his 2012 "Blue Whale" and Odd Future's "Oldie." The addition of rap to his crooner style is sure to take his sound to the next level.
Ocean has also reportedly been working in the studio with rapper Lil B, though it's unclear whether that song is for Ocean's or the Based God's album. Either way, Lil B will have an interview in Ocean's Boys Don't Cry magazine. It should be an eye-opening conversation, as Lil B's music seems to have played a significant role in Ocean's search for identity in the past few years. When Ocean opened up his sexuality in a 2012 Tumblr post, he preluded his revelations with a nod to a Lil B lyric: "BASEDGOD WAS RIGHT ... we're all a bunch of golden million dollar babies. my hope is that the babies born these days will inherit less of the bullshit than we did."
The mystery of Ocean: There's no doubt that this will be an incredible album and unlike anything we've heard. Every new collaborator changes the tone of the project. In January, Dave Gahan from the '80s electronic band Depeche Mode told Entertainment Weekly that two of his band members recorded "some electronic, modular synthesizer stuff" that Gahan thinks is going on Ocean's record.
Ocean is squarely one of R&B's greatest innovators. It was clear from his first record and from the shape of the second. This sort of cross-genre work is common with other innovators like Janelle Monáe and Blood Orange. SZA has denounced the term "R&B" to describe her music, choosing instead "glitter trap." But none of these people have the sort of profile Ocean has. Whatever Ocean's record ends up sounding like, it's going to be a genre-shifting release. It will renew R&B's commitment to conquering new sonic territory and add another opus to the already mind-blowing releases of 2015.