Stunning Images Show How Native American Fashion Looks Without Cultural Appropriation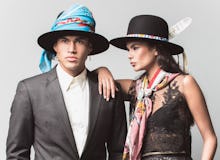 It's bigger than fashion.
That's the first thing to know about Bethany Yellowtail's work, a vibrant, elegant melding of classic style and the staples of her Native upbringing. Elk teeth line the sleeves of one gown, drawn with intricate floral beadwork, that drapes, glistening black, on the body of Jade Willoughby, an Ojibwe model from the Whitesands First Nation in Northern Ontario, Canada.
All of Yellowtail's collaborators are indigenous: Thosh Collins, the photographer, is Onk Akimel O'Odham, Wah-Zah-Zi and Haudenosaunee. Martin Sensmeier, another model, is Tlingit, Koyukon and Athabascan. Promotional video director and poet Tazbah Rose Chavez, is Nüümü and Diné.
And all have converged behind Yellowtail's vision, a fashion collection that bears the unmistakable mark of Native American influence and history, but with a twist — it's actually made by a Native American.
This is rarer than one might assume. Indigenous designers are scarce in this space, and for most of its existence, the mainstream fashion industry's relationship with Native peoples has been one of appropriation and — put bluntly — theft.
Today, this trend is apparent every time Pharrell Williams graces the cover of Elle magazine in a warbonnet or Heidi Klum arranges a Project Runway fashion shoot starring white models in face paint, feathers, headdresses and animal pelts.
"My brother is a chief, and those warbonnets are how we honor him," Yellowtail told Mic in an interview. "You don't just run around and parade in it."
Perhaps the most vivid example of appropriation from Yellowtail's own experience occurred at this year's Fashion Week in New York City. In a widely documented incident, London-based design label KTZ sent a model onto the runway wearing a dress that bore striking similarities to one Yellowtail herself had designed — including a multi-colored print bearing the distinctive hourglass pattern native to her Apsáalooke people.
"That design I did comes from a bag that my great-grandmother made," she told Mic. "I can't even describe that feeling — here I am, trying to reclaim our voice and represent myself, and this designer acts as if [Native women] are not alive, like we can't do this ourselves.
"It felt personal. It really lit a fire under me."
That personal element is what makes Yellowtail's work so rich. Raised on the Crow Nation and Northern Cheyenne Indian reservations in southeastern Montana, Yellowtail developed an interest in fashion in high school, where an art teacher saw the designer's potential from an early age.
"She said, 'You could be a fashion designer,'" Yellowtail explains. "And at the time there were no Native fashion designers. We don't see Natives like that in media, or in typical mainstream roles. My family is mostly ranchers. My dad runs a cattle ranch. With the kinds of challenges and poverty we face on the reservation, I never thought of this as an option."
After graduating from art school in Los Angeles, Yellowtail worked for various labels and designers before embarking on this latest project, her first clothing line under her own brand. She's named it the "Mighty Few," the name of the reservation district she's from.
Her inspiration, she says, is encapsulated in the vision board she created before designing the pieces — old black-and-white photographs of her grandfather, Hawk with the Yellowtail Feather, and of her aunt performing a rare women's warbonnet dance in the 1940s juxtaposed with her sister participating in the same ceremony a few years back.
"It's beautiful to see the continuity of our people from then to now," she told Mic. "I wanted to convey that with my collection — we're still here, we're still a reflection of our ancestors."
In fact, much of Yellowtail's mission — which drives her work and, in a sense, elevates it above the fashion economy's more commercial ambitions — revolves around fighting cultural erasure, the tendency to treat Native people like they're gone or disappearing.
"At this point, they're taking our voices and our designs from us," she says. "They don't acknowledge us as living people and nations. This is not just fashion, it's part of our tribal identities."
Her endgame is to create a space where Native designers thrive, and where support, appreciation and respect for their craftsmanship overtakes appropriative efforts to slap a few feathers and beads on an outfit and call it "Native-inspired." The richness and diversity of indigenous artisanship deserves to be seen, she says. Native artists deserve to have their own work bought, not appropriated without context or recognition of the original cultures from which it came.
For Yellowtail, it boils down to a simple truth: "We are the first designers of this nation. We are our own best resource."
With this new collection, she plans to prove just that.
See more of Bethany Yellowtail's work on her website, Instagram, Facebook and Twitter.