14 Photos From the Devastating Amtrak Train Crash Outside Philadelphia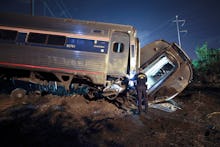 At least eight people were killed and 140 injured after an Amtrak train bound for New York City derailed in Philadelphia on Tuesday night.
Rescue workers on the scene early Wednesday morning told NBC News the death toll could rise higher as they struggled to access people who might be under toppled cars. 
At the time the train went of the rails, it was going more than 100 miles per hour, more than double the legal limit for that area of track, the Wall Street Journal reported.
"It is an absolute disastrous mess," Philadelphia Mayor Michael Nutter told reporters. "I've never seen anything like this in my life."  
Photos taken from the scene show the extent of the damage.
The train path of Amtrak Regional 188 had been one of Amtrak's regular Washington D.C. to New York routes and was carrying 238 passenger and five crew members. 
"Chairs inside the train became unscrewed and suitcases were falling on people," Max Helfman, a 19-year-old passenger on the train, told NBC News. "People were bleeding from their head. It was awful."
A spokeswoman for the National Transportation Safety Board said the agency was investigating the crash, which happened around 9:30 p.m., but suggested the derailment appeared to have been an accident. 
The injured were evacuated and taken to various local hospitals. One of the deaths occurred overnight at Temple University hospital, where another eight victims remained in critical condition. 
In a statement, Amtrak said "We are deeply saddened by the loss of life," and urged anyone seeking information to call (800) 523-9101.
The site of the crash, at the Frankford Junction station, came 71 years after a similar train accident transpired at almost the exact location, WCAU-TV noted. On Labor Day 1941, a Congressional Limited train flew off the rails killing 79 people and injuring 117 in one of the worst accidents of its kind at the time. 
May 13, 2015, 6:56 p.m.: This post has been updated.
Correction: May 17, 2015