A Skin Cancer Patient's Graphic Selfies Will Make You Never Want to Tan Again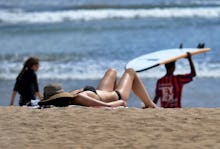 A 27-year-old Alabama woman's graphic selfie is going viral after she posted it to show the reality of skin cancer treatment.
Tawny Willoughby, now a registered nurse, grew up with a tanning bed in her home and used it four to five times a week as a teenager, only to discover she had skin cancer at the age of 21. She has since been treated for five bouts of basal cell carcinoma and one squamous cell carcinoma. This is what she looks like when she's not undergoing treatment or suffering an aggressive cancer spell:
And this is what she looked like after a recent round of treatment on April 25:
The photo has since been shared more than 56,000 times, in part because of the emotional cautionary caption she put on the photo:
"If anyone needs a little motivation to not lay in the tanning bed and sun here ya go! This is what skin cancer treatment can look like. Wear sunscreen and get a spray tan. You only get one skin and you should take care of it. Learn from other people's mistakes. Don't let tanning prevent you from seeing your children grow up. That's my biggest fear now that I have a 2-year-old little boy of my own."
Skin cancer is more common than you think. One in 5 Americans will develop the disease over the course of their lifetime, according to the American Academy of Dermatology. Basal cell carcinoma and squamous cell carcinoma — Willoughby's cancer types and the two most common skin cancers — are increasingly common in people under 40. The disease is more likely to afflict fair-skinned individuals.
Despite the fact that approximately 20% of Americans will get skin cancer, tanning remains a huge part of the country's culture. The tanning salon industry alone is valued at around $3 billion. Many people spend their summer weekends sprawled out on beaches, sunning themselves, and there's evidence many of them neglect the AAD-recommended SPF 30 sunscreen. One 2008 study cited by the Centers for Disease Control and Prevention found that only 58% of adults regularly practiced "sun-protective behaviors" like wearing sunscreen or protective clothing or staying in the shade. 
Willoughby's story will hopefully make people think twice about their tanning habits and, more generally, about how they treat their bodies. Her selfie certainly isn't the kind people decry as vain or self-indulgent — this is one inspiring, if distressing, example of how a seemingly vacuous social phenomenon can be used for education on an important and life-threatening disease.