This Domestic Violence Survivor Is Empowering Others — and Got Her Own Happy Ending Too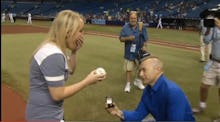 When Melissa Dohme was 20 years old, her boyfriend stabbed her 32 times and left her for dead. The 2012 attack rendered Dohme one of the 1 in 3 American women who are physically abused by a partner in their lifetime. But Dohme refused to merely become a statistic: She now uses her experience to encourage other survivors of such violence — and incidentally found herself at the center of an unexpected love story. 
After Dohme's abuser, Robert Lee Burton Jr., pleaded guilty to attempted first-degree murder and domestic abuse, Dohme returned to school to become a nurse, according to the Tampa Bay Times, and became a domestic violence awareness advocate.
At her side throughout her courageous journey was the paramedic who saved Dohme's life: Cameron Hill. Although Hill said Dohme's injuries were the most gruesome he had ever seen, he said he had sensed they would see each other again, the Tampa Bay Times reported. The two met again when Hill saw Dohme speak at a church in Clearwater, Florida, and they soon became a couple.
Now, three years later, the two are engaged: Hill proposed to Dohme on Monday at a Tampa Bay Rays — right after she threw the ceremonial first pitch for her advocacy work. 
We need more happy endings: Fifteen percent all reported violent crime is intimate partner violence, according to the National Coalition Against Domestic Violence, and such violence frequently turns deadly: 72% of all murder-suicides involve an intimate partner, and 94% of the victims of these crimes are female, according to the Violence Policy Center. 
Dohme turned a Facebook page her sister launched for personal support into a public hub for domestic violence awareness, and she works with local domestic violence awareness organization Hands Across the Bay as an advocate and outreach coordinator. According to the organization's website, Dohme has educated others about domestic violence by speaking at high schools and colleges as well as speaking about the issue in the media.
Domestic violence survivors are three times more likely to experience depression or anxiety disorders compared to their non-abused counterparts, according to the organization Women's Aid. They are also 15 times more likely to self-medicate by using alcohol and drugs as compared to the general population, Think Progress reported.  
Not all survivors have access to the resources and care they need after abuse. Some face socio-economic barriers such as financial dependence on abusive partners, for example, and a lack of public resources to address this. Survivors of domestic violence are one of the most underserved homeless populations: For example, less than 1% of supportive housing in New York City is designated for domestic violence survivors, according to the New York Daily News.
In an ideal world, all domestic violence survivors would be able to empower themselves to pursue a healthy, happy life. Unfortunately, this is not always the case. Dohme's heartwarming story should ultimately reminds us that domestic violence survivors should be supported in recovery, and presumably healthy, loving relationships.
h/t BuzzFeed