This Brand-New Drone Takes the Coolest Selfies You've Ever Seen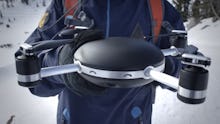 Bored of regular selfies? Good news: Your ultimate companion is here. Meet Lily, a camera-wielding "selfie drone" that can follow you around in the air.
Why? Because if you haven't seen what a drone selfie looks like, prepare to be amazed.
Created by roboticists from the University of California, Berkeley, Lily uses a GPS tracking device about the size of a hockey puck to wirelessly tether the 10-inch drone to its signal. There's no remote control required. 
The drone's compact size allows it to zip along at 25 miles per hour, shooting video and taking 12-megapixel stills — much larger photos than you'll get with the 8-megapixel camera on an iPhone 6. 
Lily can even be connected to a smartphone app to change the angle to offer different perspectives.
It takes great selfies, sure. But that's just the beginning. This thing works like an action cam: It stabilizes itself, so you can just throw it in the air and it'll find the right height, then follow you as you ski away. The shots are level and don't bounce. 
The whole unit is waterproof, making it useful for jet-skiing or any sort of outdoor shooting. It could be the perfect additional cameraman for amateur films, for which aerial shots aren't exactly cheap. 
And since it uses algorithms to recognize its owner and reframe around its target, it could even be used to film individuals during protests as a safety precaution, or to illustrate the real goings-on if they aren't being covered properly by media outlets.
After tests by the Guardian, it seems as though Lily has some kinks that still need to be worked out. The pressure is on, considering the other competitors in the "follow me" drone race.
Another issue: According to the Verge, the drone doesn't yet have sense-and-avoid technology, meaning if you're filming yourself running through the woods, Lily won't dodge trees in its pursuit to film you. And since Lily will probably go on the market for $999 (with $499 pre-sales available as of this week), taking it on a crash course through nature could end up being one hell of an expensive selfie.
But the implications are too cool to ignore. This could be the next big thing in personal filming — like an autonomous buddy with a GoPro. Once Lily goes live, YouTube and other video channels are going to get incredibly cool.
h/t The Verge