7 World Leaders Prove That America Can Have an Atheist President Too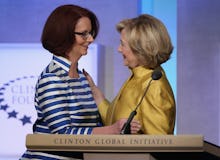 An atheist president of the United States is more likely than you might think.
While research from the Pew Research Center in 2014 indicated that a majority of Americans would be "less likely" to vote for a presidential candidate who was an atheist, their latest research published Tuesday about "America's changing religious landscape" may suggest otherwise. More young adults are non-religiously identified than ever before, and this group, as a voting demographic, will dominate if not determine America's political landscape for the next two generations.
The growing population of "nones": The 56 million religiously unaffiliated adults in the U.S., known as the "nones," is actually larger than the number of Catholics or mainline Protestants, according to Pew's latest survey. Eighteen percent of U.S. adults raised with faith in their lives now self-identify as not being religious. Younger generations are more likely to be raised without a religious affiliation: "36% of young millennials (those between the ages of 18 and 24) are religiously unaffiliated, as are 34% of older millennials (ages 25-33)," according to Pew. 
Truth be told, we may have already had our first atheist president in either Thomas Jefferson or Abraham Lincoln — neither of whom, according to Pew, "have either formally affiliated with a church or claimed to be Christians." Yet many countries have had world leaders who are atheist, agnostic or who do not identify with any religion. Here are a few to take note of:
1. Julia Gillard, former prime minister of Australia (2010-2013)
"I'm not a religious person," Gillard said before her 2010 election. "I'm, of course, a great respecter of religious beliefs, but they're not my beliefs," she continued, noting that, if elected, she would place "the national interest, about doing the right thing by Australians" above everything else. Gillard isn't even the first non-religious Australian prime minister — 11 of the 12 preceding prime ministers had no religious identity, which is not wholly surprising, since Australia's constitution defines the nation as secular.
2. Alexis Tsipras, prime minister of Greece
In January, Tsipras became the first prime minister of Greece to not identify with any religion; in fact, he broke tradition by insisting his oath of office be stripped of all religious references. NPR reported Tsipras "said he promised to uphold the constitution and look out for the welfare of Greeks" — again, matters of state trump matters of religion. Perhaps Tsipras knows that it's going to take a lot more than prayer to salvage Greece's economy. 
3. Francois Hollande, president of France
"I have reached a point where what is clear to me is the conviction that God doesn't exist, rather than the contrary," Hollande said in 2002. The French president was born Catholic but dropped his religious identity later in life, which seems somewhat consistent with the French: The Christian Post reports nearly 40% of French people do not believe in a God.
4. Zoran Milanovic, prime minister of Croatia
Milanovi? was elected in 2011 as an atheist even though, Quartz notes, approximately 90% of Croatians identify as Catholic. In fact, Milanovi? "said that as an atheist he did not want to go to the church on state holidays, as Catholics in Croatia usually do, including all former Croatian presidents and prime ministers," according to Balkan Insight.
5. John Key, prime minister of New Zealand
Key has been in office since 2008, and while he seems to embrace both agnosticism and atheism, he has not yet clarified which position he identifies with most. Prior to his election, in a 2004 interview cited by the New Zealand Herald in 2007, he hesitated in answering questions about his religion. He said, "if you're asking me if I'm religious it depends how you define religion. I look at religion as doing the right thing ... I go to church a lot with the kids, but I wouldn't describe it as something that I ... I'm not a heavy believer; my mother was Jewish, which technically makes me Jewish. Yeah, I probably see it in a slightly more relaxed way."
6. Elio di Rupo, former Prime Minister of Belgium (2011-2014)
Di Rupo's election was significant for a number of reasons: As a son of Italian immigrants he was the first non-Belgium elected as prime minister, he's openly gay and he's an atheist. In a 2008 interview, cited by the BBC, di Rupo self-identified an "atheist, rationalist and free mason."
7. Milos Zeman, president of the Czech Republic
The first "publicly elected" president of the Czech Republic in 2013, the Wall Street Journal reported that Zeman identifies as a "tolerant atheist," choosing to participate in official religious events as a public figure, while personally not identifying with any religion.