The Director of 'Selma' May Make Marvel's Next Superhero Hit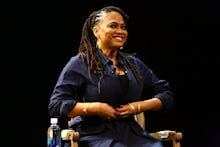 From one hero to another, Selma director Ava DuVernay is on a roll.
Fresh off the awards cycle for her Martin Luther King Jr. biopic, DuVernay is allegedly entertaining a very interesting future project. The Wrap reported Tuesday evening that Marvel was interested in bringing DuVernay on to helm one of its two upcoming films, either Captain Marvel or Black Panther, both of which feature minority heroes (a woman and black man respectively).
The Wrap's report is based on insider talk, but the site says "there is mutual interest in having her" take over the director's chair. If she decides to come aboard for either project — probably Black Panther, The Wrap noted — she'd bring diversity to a lineup of directors that is entirely white and male.
Marvel's lineup: Joss Whedon, Jon Favreau, Shane Black, Anthony and Joe Russo, James Gunn, Alan Taylor, Kenneth Branagh, Joe Johnston and Louis Leterrier. Ten white, male directors for 11 Marvel films so far. For Hollywood, which seemingly resists diversity at every turn, the move to court DuVernay is a stunning one. It's enough to give one hope things are actually changing in the industry.
Of course, DuVernay shouldn't be singled out to shoulder the burden of getting more female directors and directors of color involved with big-budget tentpoles — though you can bet if her film did worse at the box office, she'd be scapegoated. No, instead we should evaluate DuVernay as simply herself, a gifted filmmaker who directed stunning action sequences in Selma. The bridge scene alone was choreographed expertly; the shock and horror audiences felt while watching was thanks to her skill at marrying narrative with visual.
DuVernay would be an inspired choice to direct either movie, regardless of her gender or race. As fellow director Pamela Romanowsky told Mic during the Tribeca Film Festival, "The gender of the director is not the same as the gender of the movie or the gender of the audience." So even if more men than women see Marvel movies, though that gap is closing, that's no reason why she's not a perfect choice.
It's still early days, of course. Talk is cheap without actually getting DuVernay on board. Should she choose to join the Marvel movie universe, we'll still have to wait a while to see the results: Black Panther is set for a July 2018 release, while Captain Marvel is due four months later.