Bradley Cooper Is Coming Back to TV — Here Are CBS' New Fall Shows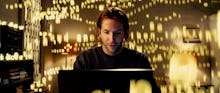 After three consecutive Oscar nominations and starring in the biggest movie of 2014, is Bradley Cooper really returning to the small screen? Shockingly, the answer is yes — albeit with a caveat.
CBS announced its fall schedule Wednesday, making it the last of the biggest four networks to firm up its programming slate for the 2015-2016 season. The network is only debuting three new shows when the fall season first starts, though others are set to join after Thursday Night Football concludes. The buzziest show on the list is an adaptation of Cooper and Robert de Niro's 2011 thriller Limitless. The former will make at least one appearance.
Reportedly, Cooper is in the pilot episode of Limitless, and will appear in other episodes dependent on his schedule. Considering his highly anticipated romantic comedy Aloha will have him on the press circuit early this summer, said schedule may be too booked for much. Still, even one appearance on the medium that first made Cooper a star (on ABC's Alias) is an exciting development, especially considering he'll also be reviving another of his film roles in Netflix's Wet Hot American Summer limited series.
Elsewhere on the schedule, it's business as usual: The NCIS franchise remains dominant, while CSI: Cyber joins Madam Secretary and The Good Wife on Sundays. The original CSI has been canceled after 15 seasons. The series will wrap with a two-hour finale in September.
One particularly exciting new show, Supergirl, will be the second comic book series on TV starring a woman, alongside ABC's Agent Carter. That series will premiere on Mondays after Thursday Night Football ends and the schedule shifts itself again.
Check out the full CBS schedule below — we'll update with trailers for the network's new fall shows when they're made available. (New shows are marked in bold; all times Eastern.)
Mondays
8 p.m. — The Big Bang Theory
Tuesdays
8 p.m. — NCIS
Wednesdays
8 p.m. — Survivor
Thursdays
8 p.m. — Thursday Night Football
Fridays
8 p.m. — The Amazing Race
Sundays
7 p.m. — 60 Minutes