38 Years Later, Stevie Wonder's 'Songs in the Key of Life' Is More Influential Than Ever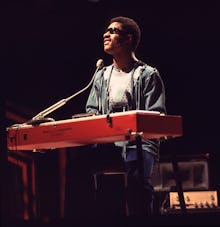 Wednesday is Stevie Wonder's 65th birthday, but his most important day of the year came in February. That's when all of music's biggest stars serenaded him at "Stevie Wonder: Songs in the Key of Life — An All-Star Grammy Salute." That was the moment it became apparent, once again, that Songs in the Key of Life is one of the most important records of all time.
It was a big year for the star and his greatest record. Just last month, he wrapped up his Songs in the Key of Life tour, in which he played nearly his entire groundbreaking double album all around the country. It received rave revues across media, much in the same way the album did when it first came out in 1976. In fact, the tour revealed the full extent to which Songs in the Key of Life has influenced modern music.
Had Wonder never been born and lived through the unique set of experiences that allowed him to create Songs in the Key of Life, little about music as we know it would be the same.
Laying the foundations of a masterpiece. Wonder recorded Songs in the Key of Life at the peak of his second phase of his career, his so-called "classic period." That era began a few years prior, when he took a stand against Motown Records, threatening to leave his label if they didn't give him more creative control. Just like Marvin Gaye, Wonder earned the privilege to create highly personal, deeply spiritual career-defining statements. They were more personal and polemical than anything he released under Motown's assembly-line songwriting style. Songs in the Key of Life was his most fully realized achievement.
"Of all the albums, it's Songs in the Key of Life that I'm most happy about," Wonder told Q magazine in 1995. "Just the time, being alive then. To be a father and then ... letting God give me the energy and strength I needed."
The Songs. The album offers an unadulterated glimpse into the legend's life. Wonder sings about his childhood on "I Wish" and integrates family recordings into the mix of "Isn't She Lovely," an ode to his daughter Aisha. Those hits, along with his chart-topping "Sir Duke," were wildly successful in their day. They've been continuously reimagined since: "Sir Duke" has been sampled by numerous hip-hop records, most notably as the opening to A Tribe Called Quest's classic "Footprints." The songs have been covered by artists as diverse as Lauryn Hill and Bonnie Wright.
Broadening the genre: The record was influential because it completely blew apart the confines of R&B. It features a tremendous amount of experimentation that dig into striking new sonic and lyrical territory. The meter-defying "Contusion" is essentially a jazz fusion standard. "Village Ghetto Land" is a slice of Baroque classical that presents an uncomfortably visceral exploration of ghetto life — "Families buying dog food now / Starvation roams the streets / Babies die before they're born / Infected by the grief." And "Black Man" is essentially a master class in race relations and alternative history set to surging funk.
It was a near miracle, and Wonder did it almost entirely on his own. Wonder wrote dedications and thank yous to more than 150 people, but he alone wrote, produced, arranged and composed pretty much everything on the album himself. That idea of the R&B auteur has left a significant legacy in modern music — you can see it clearly in artists like Prince and D'Angelo.
A long legacy: The number of musicians that Wonder's music has touched is simply staggering. "If anybody can be called a genius, Stevie Wonder can be," Bob Dylan said at Wonder's 1989 induction into the Rock and Roll Hall of Fame. Janelle Monáe, Ariana Grande, Lady Gaga and Pharrell Williams have all gushed about how much Stevie Wonder has meant to them. Even the incomparable ego of Kanye West sees an equal in Wonder.
"I'm not trying to compete with what's out there now. I'm really trying to compete with Innervisions and Songs in the Key of Life," West said in a 2005 interview, as reported by Clash. "It sounds musically blasphemous to say something like that, but why not set that as your bar?"
Wonder did it all with grace and love. "When he comes into a room, people adore him. And there aren't many artists like that," Elton John wrote for Wonder's Rolling Stone entry on their "100 Greatest Artist of all Time" list. "People admire you and they like your records, but they don't want to stand up and hug you. But this man is a good man. He tries to use his music to do good. His message, I think, is about love, and in the world we live in today, that message does shine through."
John also calls Songs in the Key of Life "the best album ever made." He carries a copy of it wherever he goes. He isn't alone in that.