Watch the Trailer for 'Supergirl,' TV's Next Kickass Superhero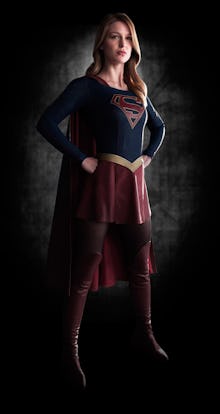 It's a bird! It's a plane! It's not Superman! In fact, it's much better: Supergirl is joining CBS' fall lineup.
As announced with their full fall schedule Wednesday, CBS has green-lit a series about Supergirl Kara Danvers, starring Glee and Whiplash's Melissa Benoist. The show will join the ranks of a growing lineup of superhero series, including The Flash, Arrow, Daredevil and Gotham. More importantly, Supergirl is the second comic-inspired show to feature a female lead, joining the titular character on ABC's just-renewed Agent Carter.
The series description indicates Supergirl will feels closest tonally to the mid-2000s hit Smallville. That series also focused on the origin story of a superhero — Clark Kent, in that case — dealing with the day-to-day of the real world. The film world hasn't been kind to Clark in the years since, dealing with everything from Superman Returns' failure to a lame first look at Batman V Superman: Dawn of Justice.
Hopefully, the smaller screen will be kind to Kara Danvers and allow her to find a home akin to what The Flash, Green Arrow, Agent Carter and others have carved out for themselves. As our great female screen heroes remain without their own films, we need every win we can get.
Supergirl will air on CBS Mondays at 8 p.m. ET after the football season concludes. Watch the trailer for the series below.