What's Happening in Baltimore Since the Media Turned Away the Cameras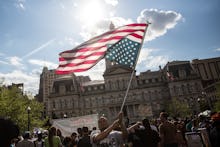 Just weeks after the riots that rocked Baltimore in late April following the death of unarmed black man Freddie Gray, many Americans may soon forget about the various problems facing Baltimore.
As the cameras leave and the media turns its focus elsewhere, problems in Maryland's largest city continue to fester. On Sunday alone, 10 people were shot, and the total number of fatal shootings is 87 for the year already, according to the Baltimore Sun. By this point in 2014, that number was 65.
The Baltimore Sun further reports there have been 19 homicides in the city since April 29, the day after the worst of the riots subsided. That averages out to 1.27 murders per day in the 15-day period. In the month of May, murders, mostly coming from gun violence, are already on track to surpass every preceding month so far this year. Nonfatal shootings are also up 50% in 2014, with 40 occurring between April 28 and May 8.
So while the city came together and shone a light on the problems Baltimore is facing, if the murder rate is any indication, little has changed for the city's poorest minority neighborhoods.
The background: According to the Baltimore Sun, none of the shootings are considered directly connected to the Freddie Gray protests. But both the Gray incident and persistently high rates of violent crime reflect widespread social ills among poor Baltimore communities, problems the media continues to conveniently overlook when the streets are not filled with protesters.
In 2013, homicide rates had risen to a four-year high, and illegal guns remain easily accessible on the city streets. About one quarter of Baltimore residents live below the poverty line, with some neighborhoods like West Baltimore boasting a median household income of just $24,735.
Because of this mix, some have attributed high crime rates to "gang violence" or clashes between gangs and the police. Baltimore Police Commissioner Anthony W. Batts argued that close to 90% of violent crime in the city was due to gang conflict.
However, John Hopkins University gun violence expert Daniel Webster told Slate that murders are just as likely to happen over petty disputes as they are "typical gang business" like territory fights or drug business. Unfortunately, the focus on these issues masks the deeper economic and social injustices that plague much of Baltimore. In some Baltimore neighborhoods, the murder rate is over double or triple the city's average, which is already many times higher than the national rate.
Police have been part of the problem: In Baltimore, as in many other cities, the police disproportionately profile or target minorities, resulting in unnecessary arrests with serious, long-term consequences. Historically, Baltimore police have cracked down so hard on black neighborhoods that they have destroyed their image in the community, decreasing public safety in the process.
"Zero-tolerance" policing strategies, originally implemented by former Mayor Martin O'Malley, coincided with a drop in violent crime. But they may have also contributed to a culture of excessive force so widespread that a recent Baltimore Sun investigation found city jails refused to accept 2,600 suspects in the past three years because they were too injured to lock up. 
At one point in O'Malley's tenure in 2005, the Washington Post reports "there were 108,447 people arrested in a city of roughly 600,000 residents," of which about two-thirds were for non-violent offenses.
Arrest rates have decreased since then, and the police are trying less heavy-handed tactics, but the damage has already been done. In Baltimore, which lost 75% of its industrial workforce in the last half of the 20th century and saw massive white flight from urban neighborhoods, a burgeoning police state and economic deprivation have combined to form concentrated areas of intense struggle. 
The news teams have packed up and left, like so many other things in America's sixth-poorest city. What was left behind is a record of neglect that should strike at the conscience of every American.