8 Times Remarks About Trans People's Bodies Got Brilliantly Shut Down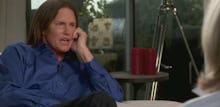 Now that Bruce Jenner has come out as a transgender woman, more people are curious about what it means to be trans. 
For years, transgender people have endured unbridled curiosity from the mainstream media. And rather than represent the trans community with nuanced narratives representing varied experiences, media has perpetuated flat stereotypes that continue to dominate how people perceive trans lives.
In the decades since Christine Jorgensen became the first known person to undergo a gender-affirming surgery, there's been slow and steady progress in public awareness — and a steep learning curve. Many people who aren't trans are learning, for the first time, the difference between sex and gender, and the importance of respecting others' identities. 
Trans public figures who share their struggles and triumphs with the world help debunk questions that betray an ignorance about gender identity. Here are a few of the moments in which trans people shut down some ridiculous remarks about who they are.
1. Carmen Carrera: Shhhhhhh! I'd rather talk about my modeling.
Supermodel and RuPaul's Drag Race alum Carmen Carrera sat down with Katie Couric last year to discuss her modeling career and the public campaign calling on Victoria's Secret to feature her as its first transgender angel. Over the course of the conversation, however, Couric got a little too curious about what's between Carrera's legs. 
"Your private parts are different now, aren't they?" Couric asked. But Carrera refused to indulge. 
"Shhhhhhh. I don't want to talk about it. It's really personal. I'd rather talk about my modeling stuff ... and showing people that after the transition, there's still life to live," Carrera said. "In other interviews with other trans people, they always focus on either the transition or the genitalia. There's more to trans people than just that."
2. Laverne Cox: We far too often focus on surgery and transition.
As Mic noted in February, Laverne Cox is no stranger to tactless questions, but she always keeps her cool. After having to do so with Couric, Cox schools Wendy Williams in how to respect her guests.
Cox was on the receiving end of invasive questions about her body, with Williams even going as far to ask, "You've got breast implants?" But Cox made the moment a teachable one, informing Williams and the audience why it's important to respect the personal boundaries and bodies of trans people.
3. Fallon Fox: Being transgender is not a game. 
After mixed martial arts fighter Fallon Fox came out as transgender in 2013, MMA announcer and television host Joe Rogan was Fox's most vocal opponent. Rogan asserted that Fox shouldn't be allowed to compete in MMA because her "bone density" as a person who was assigned male at birth would supposedly give her an unfair advantage against female competitors. In the process, he even blatantly misgendered Fox, calling her a "fucking man."
Eventually, however, Fox had her say. 
"Being transgender is not a game to us, not acting out, not an attempt to be 'weird.' Being a transgender woman is an immutable state. That state exists before any hormones, surgeries or anything else has been even considered," Fox wrote in a two-part op-ed for SB Nation. "We shouldn't have to deal with negativity over it."
4. Chaz Bono: People aren't going to catch anything by watching me dance.
Not long after Chaz Bono was cast to compete on Dancing With The Stars in 2011, conservative and so-called family interest groups expressed concerns about having a trans person on television. Some worried that having a trans man on a network primetime show would push the "LGBT agenda" on them and their children.
Bono, however, shrugged off the controversy as a bunch of nonsense. "I'm going to be dancing. I'm not up on there talking about anything other than dancing," he said, according to ThinkProgress. "People who don't have gender dysphoria aren't going to catch it by watching me dance on television."
5. Isis King: My goal in life is not to try to make everyone believe who I am.
Since her days as the first trans contestant on America's Next Top Model, Isis King has made waves in the fashion industry, even becoming the first out trans woman to front an ad campaign for American Apparel. But during her 2011 stint on the show, one of King's competitors, Camille McDonald made a nasty quip that King didn't hear until she watched the season on TV. McDonald complained that she'd be embarrassed if she lost to King because she's not a "real woman."
After King was eliminated from the show, she made it clear that no one controls how she feels about her womanhood: "Someone else's opinion about me doesn't matter to me," King told Wetpaint. She added, "My goal in life is not to try to make everyone believe who I am is who I am."
6. CeCe McDonald: People don't attach humanity to us.
In a May 2014 interview with Mic, CeCe McDonald spoke about the importance of dispelling myths about trans people. McDonald was imprisoned for more than two years after defending herself against someone who attacked her for being trans, and was forced to serve time in a men's facility. She told Mic that the dichotomy between a "real" woman and a trans woman was a false one. The problem, she said, is that "trans people are seen as objects or props, and people don't attach the humanity to us and the things we go through."
7. Jenna Talackova and Gloria Allred: No one asked to see Trump's private parts.
In 2012, Jenna Talackova was the first openly transgender contestant to compete in the Miss Universe Canada pageant — after someone outed her. Pageant officials, including Miss Universe owner Donald Trump, banned Talackova from competing, because she wasn't a "naturally born female." 
Although pageant officials eventually reversed their decision, Talackova used the opportunity to speak out against the ignorance about trans people's bodies, even enlisting the help of famed feminist attorney Gloria Allred. In a press conference with Talackova, Allred turned things up a notch: "She did not ask Mr. Trump to ... see the photos of his birth to view his anatomy to prove that he was male."
8. Bruce Jenner: I'll be OK figuring out what I'm going to wear. 
Diane Sawyer's April interview with Jenner was widely praised for avoiding most of the traps previous reporters fell into while discussing trans people. As the discussion drew to a close, Sawyer had a moment where she wondered how Jenner would dress now that he's* publicly come out as a trans woman. 
"I hate getting dressed up. I hate doing makeup," Sawyer shared in a moment of levity. "Someone else said that waiting until you're 65 means you miss the good part. You get the pantsuit part."
But Jenner retorted with a playful jab at Sawyer's attire during their interview: "I know, I know... and the black shoes, and the black pants, and the white shirt."
Zing.
*Jenner has requested to use male pronouns and the name he was assigned at birth until a date to be determined.