Jazmine Sullivan Is the Body-Positive Voice R&B Needs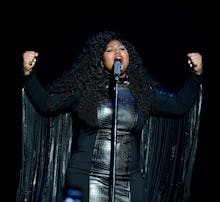 Jazmine Sullivan is the greatest R&B singer too many people have never heard of. The 28-year-old, who in 2010 won the Billboard Rising Star Award at the Billboard Women in Music Awards, has been lauded for her silky, old-school sound (she cites Lauryn Hill and Kim Burrell as among her influences), which led to her first big hits in 2008 "Need U Bad" and "Bust Your Windows" and even to nominations for Best New Artist, Best Contemporary R&B Album and Best Female R&B Vocal Performance, among others. 
After a five-year break, Sullivan has made a triumphant return to music in 2015 with her incredible album, Reality Show, and a tour that she's just recently concluded. It was an incredible show of musicianship, as always, but there's more to Sullivan's contribution than her music. She's become an essential voice in R&B through her unflinching body positivity and her willingness to take a hard look at the sexism that popular music too often promotes.
Reality: Reality Show, which she helped write and produce, is all about her experience grappling with double standards and body image in popular culture. Her lead single, "Mascara," is sung from the perspective of a woman trapped by the male gaze. She sings, "So I never leave the house without makeup on / I keep mascara in my pocket if I'm running to the market / 'Cause you never know / Who's watching you / So I got to stay on, I got to stay on." 
Sullivan doesn't just walk the walk — she speaks loudly about her feminist and body-positive messages publicly, as well as in her music. Sullivan told MusicXclusives that she thinks of this song, along with the whole album, as a "snapshot of life right now that I should document, a time capsule where we can look back and see how we were affected by society." On Instagram six months ago, she posted a picture of herself singing at a show, and the caption read, "Real quick y'all... IM BIG!!!! #nowcarryon #sheesh. If anything I'd hope that whatever u see in me serves as a reflection and inspires u to love or change certain things abt YOUR life." Instead of using social media channels to simply promote herself or post mundane updates about her day, she uses these platforms to empower her audience.
Though Sullivan seems like an unwavering, self-loving powerhouse, she often makes a point of admitting that she is human. She encourages her fans to build themselves up rather than putting her on a pedestal. 
"I think I'm naturally beautiful," says Sullivan in a video discussing her inspiration for the new album. "But as an artist in the music industry I know I'm not considered any of that. It's been really hard to have a positive self image when nothing about you, physically, is celebrated in the field you're in. ... I'm a constant work in progress."
Music's double standard. She isn't wrong about her field. The popular music has a reputation for bombarding women and men with lyrics that perpetuate unrealistic standards of success and beauty. Men are told to put strong women in their place ("I turn an independent woman back into a hoochie" raps Redman on "Keep On '99") and to only care about wealth (Chief Keef repeats this mantra in "All I Care About"). Women, on the other hand, are valued for having a "cute face, tiny waist and a big behind" and you too seldom hear a women who fires back like Sullivan.
And, of course, the way society puts down women verbally — in lyrics and in public discourse — spills into how they are portrayed visually. In 2014, a report commissioned by the End Violence Against Women Coalition, Imkaan and Object called "Pornographic Performances" found that people who see sexism and racism in music videos are likely to adopt those hateful attitudes themselves. It says that misogyny in these videos therefore creates a "conducive context" for violence against women and girls. Of course, this doesn't mean that we should limit the self-expression of both women and men. But, as Lia Latchford of Imkaan Young Women's Team puts it, "our concern is how the music industry uses music videos as yet another vehicle to colonize and commodify black women's bodies. We urge the music industry to consider what young women and the evidence are telling them." Take, for instance, the not-so-subtle messages of Jason Derulo's music video for "Wiggle":
It's all a game of images — of what we accept as real and positive, and what we reject. Sullivan's work is some of the best R&B you'll hear, but it's also one of the most incisive critiques of the industry. And she lives everything she sings.
"I would say my confidence level has grown tremendously from when I first started to now," she told Essence. "I'm a lot older and I just feel like I know myself a little more. I also love myself more."
It's a lesson a lot of us need to learn, and Sullivan's music is especially good at teaching it.