11 Lyrics Prove Earl Sweatshirt Is One of the Most Talented Rappers Today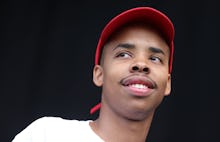 Ever since 16-year-old Earl Sweatshirt rapped the opening bars of "Earl" on his first mixtape, the Los Angeles rapper has been a rap phenomenon. His dense, assonant flows have hooked some major players in the hip-hop community. In April, even Kendrick Lamar shouted him out as being "his favorite artist in the game right now."
Lamar was responding in part to Earl's new record, the hip-hop masterpiece I Don't Like Shit, I Don't Go Outside. Released in March, the record was his best work yet. It was also obscured by industry mishandling and the massive success of Lamar's own record — but it's only a matter of time before Earl rises to the top of the game. Though he's only released two albums and a mixtape in the past five years, each has been more erudite and masterful than the last. These are the lines that make him one of the most exciting lyricists to watch.
These lines pretty much launched the entire Odd Future craze. Earl Sweatshirt's chaotic and violently irreverent lyrics, delivered with a casual, self-assured flow shocked the hip-hop community. "It all creepily pointed to an old soul trapped in a teenager's body," Complex wrote, putting this song at the top of their list of best Earl lines.
Earl Sweatshirt's first mixtape, Earl, was a mess of debauchery and misguided teenage rape fantasies, topics for which he's since atoned. But shining through his classic Odd Future shock raps there were several moments of introspective clarity, like these lines from "Couch." The vast majority of his more recent material explores this more personal subject matter.
The Odd Future posse track "Oldie" was the first officially released Earl Sweatshirt track after he returned from his time at a school for troubled youth in Samoa. The line "Threw his own youth off the roof after paradise" can be interpreted in numerous ways. Genius calls it: "Confusing, but this may be the deepest, if not the first, multilayered quadruple entendre the world has ever seen." Any way you slice it, it announces the birth of a new, more focused Earl Sweatshirt: less misogynist-in-training and more future leader of the underground.
Earl's studio debut Doris offered a far more personal glimpse of the rapper's psyche than audiences had ever seen. Throughout the album, he discusses depression, addiction and the emotional fallout he experienced from the absence of his father, South African poet Keorapetse Kgositsile.
This unassumingly clever line from Doris' first single, "Chum," is a prime example of Earl's unique brand of lyricism. Nearly every rapper in hip-hop has a line about being the hardest rapper on the scene, but few would state their claim with such a humorous and macabre simile.
Flying Lotus' "Between Friends" introduced the world to his rap alter-ego, Captain Murphy, and Earl Sweatshirt was right there to help him make his debut pop. The opening lines of Earl's verse have a fascinating shift in perspective. He spits the world "compliment" in the first line and then breaks the fourth wall in the third line to speak to his audience.
Earl also killed his verse on Captain Murphy's sequel to "Between Friends," 2013's "Between Villains." It's filled with ludicrous quotables, like the above and Earl's hilariously vile description of trying to get some head in a hospital bed: "You could catch him like some halibut after a bad accident / Trying to get jaw-jacked right where the catheter peeks out."
After a dry spell, Earl Sweatshirt popped up in 2014 on two tracks on Mac Miller's mixtape, Faces. On the opening lines of his verse, he slyly revealed where he'd been for the past few months: "lately, I don't like shit, I been inside on the daily" — a nod to his next album, I Don't Like Shit, I Don't Go Outside, which he didn't announce for nearly another year.
"Mantra" is a dark and defiant statement of purpose, and one of the stand out self-produced tracks off I Don't Like Shit, I Don't Go Outside. It's essentially a devil-may-care middle finger to death and a discussion of Earl's difficulties accepting his newfound fame.
On "Grief," Earl calls out all the pop rappers just trying to write catchy radio hooks to snag paychecks. In his estimation, these bottom feeders think they're making a name for themselves, but the industry is really just nibbling away at their creative potential. It'll toss their bones when it's done.
At the end of April, Earl announced his release of a 10-minute long track "Solace," with the following tweet:
It's not his wittiest lyrical exercise, but it is a haunting and evocative listen. He meditates on doubt and depression and builds an ominous sense of foreboding from the blurry, disorienting beat right up through his sluggish flows. Earl Sweatshirt's art is only getting better. And this is just the beginning.