11 Amazing Summer Songs You'll Never Hear on the Radio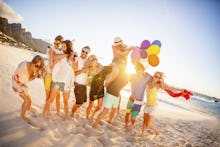 Warm weather is on the horizon, and music blogs are already declaring candidates for song of the summer. Will it be Britney and Iggy's "Pretty Girls," Wiz Khalifa's "See You Again" or Fetty Wap's "Trap Queen?" Whatever it is, it will be inescapable. Summer songs share many characteristics: They're high-energy. They have danceable beats. They get a lot of radio play. But some of the best summer songs never get heard. Some of them barely even make it to the radio.
It's time to change that. Only 28% of all songs of the summer come out later than June, according to FiveThirtyEight. So our summer song is likely already starting to gain traction — but there are tons of candidates already here that won't make it to the top 40. NPR calls the song of the summer "the music industry's holy grail," but every year, this honor is dictated more by Clear Channel's priorities than taste. Here's a list of the best candidates for song of the summer that you won't hear on the radio — and a playlist of the nine that are on Spotify:
"Eventually" by Tame Impala
Released: May
The song: "Eventually" has airy vocals and a winding melody similar to the 2013 summer song candidate, Phoenix's "Entertainment." Released as the fourth single from the Australian band's Currents, this song has all the right ingredients: Energy, danceability and groove.
"Paycheck" by Isle of Indigo
Source: Soundcloud
Released: January
The song: Although there's little to no information out there about the group, when the EDM twins Disclosure posted this single on their Facebook page, it blew up. The song is a total banger, and we hope the group has far more music on the way. It sounds like a love child between Jamiroquai and Disclosure, and that's a good thing.
"I Know There's Gonna Be (Good Times)" by Jamie xx, Young Thug and Popcaan
Source: Soundcloud
Released: May
The song: As a solo act (and one quarter of British band the xx), Jamie xx hooked up with Young Thug and Popcaan for this bumping summer jam. The song manages to combine an island-inspired melody with grinding vocals and ridiculous lines like "I'ma ride in the pussy like a stroller" — and somehow it all works beautifully.
"Quarterback" by Kopecky
Released: March
The song: Nashville-based family band Kopecky released "Quarterback" as the first single off their forthcoming sophomore album, Drug for the Modern Age. Spin aptly calls the song "a melodic three-minute blast with piercing guitar riffs and an adrenaline-pumped chorus." This one's a summertime party-starter in the vein of indie heroes like early Arcade Fire.
"California Roll" by Snoop Dogg feat. Stevie Wonder
Released: May
The song: Off Snoop's latest album, Bush, this laid-back jam is great for those summer days when it's too hot to dance. Pharrell and Steve Wonder put their magic touch on the weed-themed song; it's pretty much mandatory that you light up a spliff when this song comes on — prepare accordingly.
"I Love It When You Cry" by Steve Aoki & Moxie Raia
Released: February
The song: This remix is off electronic mastermind Steve Aoki's new album, Neon Future.II. The track features Moxie Raia, an upcoming singer-songwriter who's on tour with Aoki. "I Love It When You Cry" is a mix of classic pop vocals, a bumping club beat and a surprisingly tasteful use of Indian-inspired melodies.
"I'll Be There" by Chic feat. Nile Rodgers
Released: April
The song: A pioneer of disco, Rodgers is the mastermind behind classics like "Le Freak," "Everybody Dance," "We Are Family," David Bowie's "Let's Dance" and Madonna's "Like a Virgin" and "Material Girl." This song might sound familiar (even if you don't know who Chic or Nile Rodgers are — for shame!) because Rodgers was also one of the masterminds behind 2013's song of the summer, Daft Punk's "Get Lucky." Maybe this summer will be the rebirth of disco? We can dream.
"No Words" by Erik Hassle
Released: April
The song: Swedish singer-songwriter Erik Hassle is on the verge of breaking through to American audiences. This single is club-ready but still has a catchy melody and sticky sweet chorus. It's one of those songs that's perfect for warm summer nights: "No one know what tomorrow holds, all we got is here and now."
"bodyache" by Purity Ring
Released: February
The song: Canadian synthpop duo Purity Ring released "bodyache" at the end of winter, so it just barely meets the requirements for song of the summer. Though their latest album, Another Eternity, peaked at No. 26 on the Billboard 200, you probably won't hear this dreamy single on top 40 radio. But its clap chorus is reason enough for celebration.
"Huarache Lights" by Hot Chip
Released: February
The song: These Londoners have been around for a while — this is the single off their sixth album, Why Make Sense? — but clearly time hasn't slowed them down. "Hot Chip" perfectly bridges the gap between indie rock and synthpop; it's perfect for a chill summer night.
"When the Stars Come Out" by Chris Stapleton
Released: April
The song: Ditch those bro country anthems about beers and truck beds and listen to this stunner from Nashville songwriter Chris Stapleton. Stapleton has been a reliable songwriter in the Nashville scene, working with artists as diverse as Adele and Luke Bryan, but with his new record, Traveller, he's having a major moment of his own. This is a beautiful, mellow song with just the right amount of twang. It's ideal for a slow-down moment on a summer night under the stars.