Definitive Proof That Bernie Sanders Is the Candidate Young People Need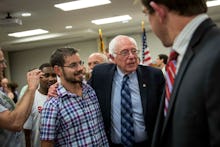 If someone had told us in 2012 that the favored candidate of millennial voters would be a socialist septuagenarian who wants to "frighten the billionaire class," we'd have told them that we had a bridge in Alaska to sell them. But less than two weeks into his seemingly impossible campaign for the Democratic nomination (his website won't even be fully launched until May 26), self-described "democratic socialist" Sen. Bernie Sanders (I-Vt.) has raised millions of dollars for his run, the vast majority of it from small donors.
Support for the senator's run for the White House isn't just coming from far-left groups like Occupy Wall Street. Millennials are shaking off the stereotype of political disaffection they've been stuck with in support of the long-shot senator — or, at least, in support of his issues. Despite very low levels of trust in the federal government and elected officials (you try growing up under President George W. Bush and graduating into the Great Recession), millennials are more politically engaged in their everyday lives than any previous generation. And on nearly every one of the issues that millennials consider to be the most important, Sanders comes out as the unlikely champion.
Issue: Marijuana
Despite few opportunities to come out in strong favor of decriminalization on the federal level, Sanders has a long history of progressive votes on drug policy. He's voted against mandatory drug testing of federal employees, as well as against an amendment allowing U.S. military to patrol America's southern border. Even President Barack Obama has made fun of Sanders for being "a pot-smoking socialist."
In a 2014 interview with Time, Sanders indicated that he supported the legalization of medical marijuana, and admitted to having smoked marijuana when he was young. Although he's still skeptical of legalization across the board, Sanders labels the War on Drugs as a "failed policy" that has trapped millions of nonviolent offenders in an endless prison-to-prison pipeline.
This is in keeping with the vast majority of millennials, who support the legalization of marijuana use and possession in droves. According to Pew Research Center, 68% of millennials support the legalization of recreational marijuana nationwide. (Before tossing out the "that's just pothead twenty-somethings" canard, Pew also found that only 52% of millennials have actually tried marijuana, meaning that legalization of recreational pot is more popular than pot itself.)
Issue: Student Loan Debt
Long before Sanders declared his candidacy for the Democratic nomination, the skyrocketing cost of higher education was a major part of his mission as a senator. He has supported extending subsidized federal student loan rates, as well as making employee educational assistance tax-deductible. Last year, surrounded by Vermont college students and graduates wrestling with tens of thousands of dollars in student loan debt, Sanders announced that he was introducing legislation to help students earn college credits in high school in order to cut the amount of time they spend paying tuition costs.
"In today's highly competitive global economy, millions of Americans are unable to afford the higher education they need in order to get good-paying jobs," Sanders declares on his website. "Further, with both parents now often at work, most working-class families can't locate the high-quality and affordable child care they need for their kids. ... Without a high-quality and affordable educational system, we will be unable to compete globally and our standard of living will continue to decline."
Considering that 76% of millennials say that college has become harder to afford, and that 73% say graduates have more student debt than they can manage, Sanders' message on student loan debt will fall on attentive ears.
Issue: Civil Rights
Sanders has done more than "evolve" on issues of LGBT equality like same-sex marriage rights — he was a pioneer of them. In 1996, then-Rep. Sanders voted against the Defense of Marriage Act, which prevented the federal government from recognizing same-sex marriages performed by the states and was eventually struck down by the Supreme Court as a violation of the 14th Amendment in 2013. Ahead of this April's Supreme Court arguments on the issue, Sanders declared that it was "time for the Supreme Court to catch up to the American people and legalize gay marriage." 
Sanders doesn't just stop on the issue of equality for LGBT Americans; he has been a longtime supporter of women's rights as well. Sanders has voted against numerous anti-abortion bills in his time in Congress, and has been given a 100% rating by NARAL every year since 2003.
Millennials, who support marriage equality at a higher rate than any other cohort, are increasingly likely to dismiss out of hand candidates who don't support full equality for their LGBT friends and family.
Issue: Climate Change
In 2012, Sanders blasted Sen. Jim Inhofe (he of "snowballs prove climate change is a scam" infamy) for being one of the biggest climate skeptics in Congress. 
"The bottom line is that when Sen. Inhofe says global warming is a hoax, he is just dead wrong, according to the vast majority of climate scientists," Sanders said. "For better or worse, when Sen. Inhofe speaks, the Republican party follows. And when the Republican party follows, it is impossible to get real work done in the Congress." It was one of the more badass congressional showdowns since the caning of Charles Sumner:
The next year, Sanders introduced the Climate Protection Act, which would tax greenhouse gas emissions and invest the revenue in research into clean energy. That's exactly the kind of intensity that millennials love to see on the issue of climate change: According to a University of Texas Energy Poll, 56% of millennials say that they are inclined to vote for candidates who support cutting greenhouse gas emissions.
Issue: Income Inequality
This is Sanders' bread and butter as a political issue and one of the most important ways to win over the millennial vote. For Sanders, the issue of skyrocketing wealth being concentrated among a few individuals and families is a moral one. As he told Mother Jones in an interview, "There is something immoral when so few have so much and so many have so little. I don't come to San Francisco very often, but we've driven around the city and seen people sleeping out on the streets. In my state, you've got people working 40, 50 hours a week and going to emergency food shelves because they don't earn enough money to feed their families adequately. You have millions of young people graduating college deeply in debt. They can't get their lives started, can't get married. So I think the issue of income and wealth inequality is in fact a moral issue."
Sixty-four percent of millennials believe that the gap between rich and poor has grown during their lifetimes, according to a Harvard Public Opinion Project poll. And they are finding that even in their twenties, income inequality is widening the wealth gap between them and their peers. "People are working longer hours for lower wages and are exhausted," Sanders told Mother Jones. "I think they don't have the energy to engage in political struggle. And second of all, the power of the billionaire class, people look up and say, 'We can't beat them.'"
It's a message that Sanders hopes will resonate with the most informed — and angry — young electorate in American history. If the data are any indication, Sanders might just have a shot.