Fox News Station Blurred Out the Nipples of a $179 Million Picasso Masterpiece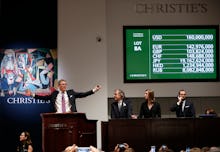 When a Fox news station reported on the record-breaking $179 million sale of Picasso's Women of Algiers (Version O) at a Christie's auction, it outdid itself by blurring out the abstract breasts in the painting.
After Fox5NY ran the story on Wednesday, several people took to Twitter to express their derision at Fox's decision to censor a masterpiece firmly established of the Western canon of art.
New York magazine senior art critic Jerry Saltz even weighed in, calling Fox News "sexually sick."
Not only did the censorship reveal a perversion in how Fox views the human body, but blurring out the nipples inherently sexualizes and objectifies the female form, even in an abstract piece of art like this.
In response, some evoked the #FreeTheNipple campaign, an initiative to desexualize women's breasts and allow women to reclaim ownership over their bodies. The movement was inspired by a film of the same name, which explored the legal double-standard in New York of men being allowed to expose their nipples while women can't. It has transformed into an international campaign and is particularly popular in Iceland, a country known for its feminism, in the fight to make the treatment of men's and women's bodies equal.
Fox's problem with women: Fox also has a poor track record when it comes to reproductive rights. On May 7, the news team made false claims regarding the influence a study on survival rates of premature babies will have on abortion laws. "In fact, not only does this claim misrepresent the science, it also misinterprets how the Supreme Court has defined 'viability' in its rulings on reproductive rights," notes Media Matters.
Given how marginalized and objectified women are on Fox, it's unfortunately not that surprising they decided to blur out the breasts on Picasso's masterpiece. If you have kids, just make sure not to take them to any museums before they're 18. By the Fox logic, it could really mess them up.