This Amy Schumer Sketch Hilariously Skewers Men's Obsession with "Cool Girls"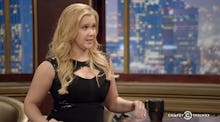 Amy Schumer had a special message for men and their obsession with "cool girls" during a recent episode of her show, Inside Amy Schumer. In a sketch that aired this week, viewers were treated to the comedian's doppelganger, Amy Lake Blively, when Schumer's Trainwreck co-star and Saturday Night Live alum Bill Hader interviewed her as a character in classic late-night talk-show fashion. 
At first glance, the sketch appeared to just be making fun of the ditzy female "cool girl" stereotype. But with satire that was, at times, almost too believable, Schumer showed the real targets of the skit were the men who enjoy hearing woman say things like this: 
Blively is a "cool girl," a destructive concept largely perpetuated by men, and immortalized most recently by the Gillian Flynn book and movie Gone Girl. In her own words, Flynn sums up the phenomenon:
"Being the Cool Girl means I am a hot, brilliant, funny woman who adores football, poker, dirty jokes, and burping, who plays video games, drinks cheap beer, loves threesomes and anal sex, and jams hot dogs and hamburgers into her mouth like she's hosting the world's biggest culinary gang bang while somehow maintaining a size 2, because Cool Girls are above all hot. Hot and understanding."
Basically, the "girl next door" who's just "so chill" and cool with "whatever."
During the sketch, Blively spoke about her exploits in Fiji, which included a special relationship with a local dolphin, and how she loves nothing more than to sit at home baking for her "best girlfriends" and "reading comic books." Her remarks, sprinkled liberally with mispronunciations of the word "like," provoked furious masturbating from male audience members — who could no longer contain themselves after Blively admitted her favorite movie was Star Wars. 
Hader smiles, but sits otherwise unmoved, as Blively is comically ejaculated on by the entire audience, before announcing "someone in the audience is the winner of our Dannon yogurt sweepstakes." 
Funny, right?
Aside from completely destroying the "cool girl" trope, the sketch took aim at a much bigger subject: the male-driven culture that promotes this negative female stereotype. Several media outlets speculated the specific targets of the takedown were late night bro-panderer David Letterman and actress Blake Lively. Vanity Fair called Lively's 2010 appearance on Letterman's The Late Show, "an obvious inspiration for the sketch."
Schumer has already made strides as a female comedian, succeeding in an industry historically unwelcoming to women. Her takedown of a society that perpetuates and promotes destructive gender roles is something that remains painfully timely in the United States, where men make up 81% of Congress, 476 of Fortune 500 CEOs and 93% of Hollywood directors. Rather than idolizing cool girls, men should be promoting women working toward changing these grim statistics.  
The full clip is something all women and all men should watch.