Rihanna's Latest Fashion Ad Is a Major Milestone for Black Women Everywhere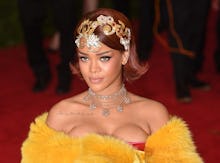 In an industry that's long battled concerns about diversity, Rihanna's new ad campaign could represent a move towards the right direction.
Women's Wear Daily reported in March that the Palace of Versailles would be the setting of Rihanna's Dior shoot, as part of the brand's "Secret Garden" video series. Now that spring has sprung, so have the images, and as the Cut noted, this collection of poses makes Rihanna the first black woman to take front and center in ads for the French designer. 
Why this matters: As ABC News points out, the Palace of Versailles has historical significance in the world of fashion. In 1973, the Battle of Versailles pitted five American fashion designers against five French designers. This battle royale was also one of the first events to feature black American models on high fashion runways.
But decades after that landmark show, the fashion industry's choice of models continues to mostly favor white, thin women despite a steady stream of protest. For example, according to a Jezebel report, models at New York Fashion Week for Fall 2014 were 78.69% white. 
Even further, fashion magazines routinely court controversy by featuring models in blackface, cultural appropriation in designs or giving famous white women credit for starting beauty trends long led by women of color.   
Rihanna's great example. Despite the drama, Rihanna continues owning her place as a fashion icon and trendsetter. Most recently, the singer turned heads at the Met Gala, showing everyone how to authentically honor different cultures. During an evening with a "China white tie" theme, Rihanna donned a couture dress that stole the show on the red carpet, for more than one reason. Aside from its sheer opulence and dramatic length, Rihanna's dress was one of the only looks actually made by a Chinese designer, a refreshing departure from the other culturally-appropriated costumes on display. 
So if anyone could possibly help put women of color on a course for increased representation in fashion ...
Rihanna is unquestionably a leading contender.