The 'Instagram for Weed' Features Gorgeous Pot Photography and Insane Blunts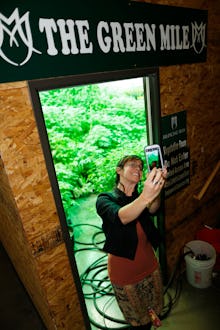 Stoners have a social media problem. Unlike legal forms of debauchery, like drinking, visiting strip clubs or smoking cigarettes — behavior often celebrated online — smoking weed and talking about it online isn't entirely safe. 
MassRoots wants to change all that. 
Dubbed the "Instagram of weed," the Denver-based social media startup wants to become for stoners what Instagram is for people who love brunch, dogs and babies. The two platforms look almost identical; MassRoots even uses the same curlicue typeface as Instagram. The difference is that instead of followers, MassRoots users have "buds."
"We thought of all of our friends who smoked, almost none of them posted about it on Facebook, Instagram or Twitter 'cause their families or bosses are connected to them on those networks," the company's 23-year-old CEO, Isaac Dietrich, told ABC7 in Denver. "I wouldn't want my grandmother to see a picture of me taking a bong rip every time she logs into Facebook."
Dreamt up by Dietrich and his co-founder, Tyler Knight, while they shared a joint, MassRoots features photos of fat nuggets, glass bongs, inspirational quotes and bleary-eyed smokers basking in the afterglow of a good hit. It lets you search by hashtag, user and location and also includes an "editor's choice" collection.
A cursory scroll through the app's recent posts reveals a fairly ordinary lineup of content. Like Instagram, most of the shots aren't professional; they're just your everyday stoner's photos. Of course, some users get creative — one included a photo of what looks like a Spider-Man joint — but a sizable chunk are just there to revel with the rest of the pot community. As Engadget's Andrew Tarantola put it: "The majority of MassRoots' users are not gifted photographers (being stoned clearly doesn't help matters either.)" 
While MassRoots characterizes itself as "a social network for the cannabis community," it's supposedly only available in places where medical or recreational marijuana is legal. (The lines are blurry, however; when it recognized my location as New York State, which only allows medical marijuana, it didn't ask for a license number or doctor's note.) 
Unsurprisingly, it saw strong pushback from Apple: Earlier this year, Apple decided to ban MassRoots and other cannabis-focused apps, citing guidelines that barred programs encouraging "excessive consumption of alcohol or illegal substances." 
But MassRoots fought back, and roughly a month later, it was back in the App Store. 
"As you have a community of hundreds of thousands of like-minded people, those people talk to each other and can be organized behind central goals to help move the industry forward," Dietrich told Inc at the time. "Our App Store campaign was kind of our first foray into activism and motivating our community to take action."
The app doesn't want to focus solely on image sharing, however. They allow dispensaries and other cannabis-related businesses to advertise their services, which gives them an advantage over places like Facebook, Google and Twitter, which often ban marijuana-centric ads.
Once states put regulations in place for online buying and delivery, the app says it will begin to offer its users the option of ordering from various dispensaries and operations. Think the Domino's delivery app, only for weed: Visit a dispensary's profile, check out its products and log your order through MassRoots. 
Another cause Dietrich and Knight are pursuing? The 2016 presidential election. "We have eight states with legalization in some form on the ballot in 2016," Dietrich told Inc. "We plan to help win every single one." Dietrich said the app intends to add a voter-registration feature in time for the election.
For now, though, users can simply enjoy the community for what it is: a veritable paradise for the social-media-friendly stoner. 
h/t Engadget