One of Your Favorite Bands From the '90s Is Back With This Amazing Beyoncé Cover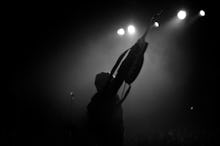 From Third Eye Blind, the same band that brought you "Jumper," "Semi-Charmed Life" and "How's It Going To Be," comes... "Mine" by Beyoncé? Yep, that's right — Third Eye Blind are back with a cover of Beyoncé's 2013 ballad. Third Eye Blind turned the sultry track into an acoustic guitar affair, and the result is arguably better than the original. (Plus: no Drake!)
Third Eye Back: This song is part of a promotion for their first new album since the release of their 2009 album, Ursa Major. But it was in 1997 that Third Eye Blind hit their stride; that's when their self-titled album was released and "Semi-Charmed Life" cracked the top 10 of the Billboard Hot 100. Thanks to that single's success, along with "Jumper" and "How's It Going To Be," the album stayed on the Billboard 200 for an impressive 104 weeks.
With this Beyoncé cover, Third Eye Blind announced that they'll release a new album, Dopamine, on June 16. The band debuted this new song on Jimmy Fallon's Tonight Show Tumblr along with a little background on the making-of.
"While we were making the Dopamine album this was one of the songs that inspired me," frontman Stephan Jenkins said. "I wanted to hear stripped down to really show the beauty of the lyrics. I just started playing it on my acoustic guitar and fans loved hearing the song live, so we decided to do a recording of the song."
The band also recently premiered their new single off Dopamine, "Everything Is Easy." But their cover of "Mine" is a clear sign that this classic '90s band might have something very relevant to contribute once again.