Foo Fighters Just Played a Surprise Concert of the Greatest Rock Covers of All Time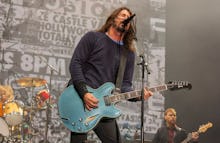 Most of the attendees at the Conejo Valley Days county fair likely thought they were seeing some small time band, Chevy Metal, on Saturday. What they got instead was one of the last great hard rock bands in disguise.
Foo Fighters took a pause from their Sonic Highways tour to play a set of covers on a tiny stage in Thousand Oaks, California. They used the name of drummer Taylor Hawkins' cover band, and then they covered Bryan Adams' "Summer of '69," David Bowie and Queen's "Under Pressure" and AC/DC's "Let There Be Rock," among many others. This will go down as one of the greatest surprise concerts of all time.
Videos of the concert uploaded on YouTube offer a rare chance to see one of the greatest acts in rock history totally at ease. They fill the space between their songs with long stretches of banter about fried twinkies and carnival rides. The band is relaxed and clearly having a blast running through the Vapors' "Turning Japanese."
And the Knack's "My Sharona."
True rockers: Dave Grohl looks likes he's in his element headbanging for the local California crowd. He has always been a champion of the DIY, garage rock musician — the kind that would have their first nerve-wracking gig at a venue much like Conejo Valley Days. Playing covers on small stages is pretty much how he got his start.
"We tried our damnedest at Bowie, Who, Zep, Cream, Kinks, Hendrix," Grohl said at his keynote speech at South by Southwest in March 2013, according to Rolling Stone. "We played basements, backyards, keg parties ... we even played the Rolling Stones' 'Time Is on My Side' at a fucking nursing home."
He's urged musicians to embrace this scrappy hustle and love every minute of it. In so doing, he's become one of rock 'n' roll's greatest proselytizers in a climate that is not very open to rock at the moment. "Promoting your album is one thing. Going out and promoting the idea of human beings playing music for the next generation, that's another," Grohl told Billboard in January 2013. "There are times when I feel like I'm a traveling minister. I'm trying to go out and get kids to pick up yard sale instruments and change the world."
Watching Grohl on stage, it's clear he's still loves everything about being a rock star. And despite his illustrious status as a 13-time Grammy winner, 2015's Record Store Day ambassador and rock documentarian, he still has love for the fans and for the music. That's why he's a legend.