Meet the Norwegian Celebrity Teaching Teens About Sex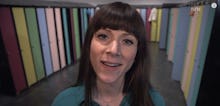 Sex in America is a paradox: Hyper-sexualized images are everywhere, but we maintain a largely puritanical approach to sex itself, exemplified by our commitment to abstinence-only sex education. But not all countries view sex the same way, as a new, straightforward Norwegian sex education video demonstrates.
The educational TV series Newton, a state-funded show hosted by Norwegian celebrity Line Jansrud, aired an episode this week focused mostly on puberty, but the seven-minute segment on sex, including frank demonstrations of masturbation and heterosexual intercourse, has captivated the Internet. 
"You don't just change appearance," Jansrud says, according to an English translation. "You change as a human being as well ... And that's because your brain changes." Right from the top, her explanation shatters moralistic shame about puberty and sex by emphasizing that it's a biological, normal process.
Puberty creates new desires, like hand-holding and fondling, which can be pleasurable, she adds. Importantly, she notes that these "crushes" can be heterosexual, homosexual or bisexual. "There are so many possibilities," Jansrud says. "Only you can find out who you like." 
Then she gets to the nitty-gritty: Jansrud demonstrates how to French kiss with a tomato, masturbate and even have heterosexual intercourse. It's the type of practical education that is so simple, yet often overlooked in even the most basic sex ed courses.
Jansrud even addresses the fact that sex can be had for pleasure — not just procreation. "Muscles in your pubic region contract, and a wonderful feeling rushes through your body," she says, describing the mechanics of an orgasm.
Of course, there is an age of consent (16 in Norway), and there's no reason to rush, Jansrud reminds viewers. It's also crucial to use contraception, she adds. 
While Facebook removed a clip from the show about menstruation in April, some Facebook commenters have responded positively to the new video. "I am genuinely proud of the fact that ... Norway is leading the way here," wrote one commenter, according to the Daily Dot's translation.
Leading the way: Scandinavian countries are generally known for having a much more honest, comprehensive approach to sex education, which seems to be working: Norway's teen birth rate is more than four times lower than the rate in the United States as of 2013. Meanwhile, U.S. teens were also less likely to use contraception and have higher rates of STDs, according to RH Reality Check. Norway specifically has integrated comprehensive sex education, including "all main biological, biomedical, psychosocial, ethical and personal relationship topics," according to the SAFE Project. 
Considering countless studies show an abstinence-only approach to sex education doesn't work and that a comprehensive approach does, this informational video — and Norway's open-minded, informational approach to sex education overall — should be seen as an example other countries would do well to follow.
h/t The Daily Dot